Machismo: Fernando "El Feroz" Vargas VS Ricardo "El Matador" Mayorga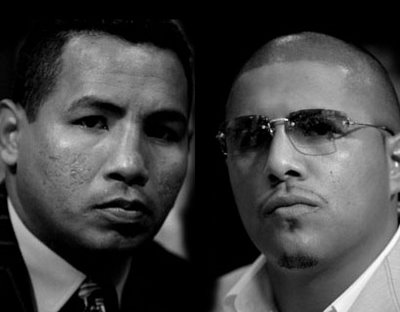 Machismo: Fernando "El Feroz" Vargas VS Ricardo "El Matador" Mayorga
Next Friday, November 23, Fernando "El Feroz" Vargas (26-4, 22 KO's) from Oxnard, California will meet Ricardo "El Matador" Mayorga (28-6-1, 23 KO's, 1 NC), from Managua, Nicaragua at the Staples Center in Los Angeles, in a fight where both boxers don't like each other too much. This fight is interesting for a number of reasons. First off, the fight will be fought at 166 pounds, and neither man has fought at weight above 160. The fight has already been postponed once when El Feroz was diagnosed with anemia. Both fighters have exchanged harsh words, and hard punches at press conferences. And Mayorga has been puffing on cigarettes all the way.
Vargas, the star of La Colonia Gym, is coming off a two fight losing streak to "Sugar" Shane Mosley. The last outing was pretty brutal. And truth be told, Vargas has not looked impressive in victory since his win over Ghanaian legend Ike Quartey. And that was in 2000! In between, Vargas fought very inspired in devastating losses to Oscar De La Hoya and Felix "Tito" Trinidad.
Although Fernando has seemed to come up short in most of his big fights, he always comes to fight and has tons of heart. That is why he is destined to make The G Manifesto's Hall of Fame. He is a very entertaining fighter to watch and has great boxing style. That is one of the reasons he never has a problem packing the house. He is a very athletic boxer with good defense and heavy hands. Vargas has got a solid jab and can land vicious hooks and uppercuts.
Ferocious Fernando Vargas highlights

Mayorga is also coming off a defeat at the hands of De La Hoya. El Matador has also not really looked great in a win since he blasted out Vernon "The Viper" Forrest twice in 2003.
Mayorga has been boxing's Wildman in recent history. His training regimen has been straight out of The G Manifesto's playbook; smoking cigarettes, drinking, partying, swooping girls and sparring. He punches like a wrecking ball but is oftentimes off balance and his defense suffers as a result. Not like he really cares. Mayorga seems to like to be hit and fights with Machismo personified. His overhand right is a deadly weapon, but sometimes a razor sharp boxer can expose him. Trinidad and De La Hoya have shown that his granite jaw can be cracked.
Ricardo "El Matador" Mayorga (highlights)

The blueprint to defeating Mayorga has already been laid down by Trinidad and De La Hoya. It is really up to Vargas to execute it. Mayorga is going to do everything in his power to lure Vargas into a slugfest. In fact, everything Mayorga has done so far (insults, taunts, disses) has been done to piss Vargas off and get him out of his game plan. Well, that, and to sell tickets. The fight does have the potential to be a brutal war and could be a classic. I have a feeling that one fighter might just fold before it turns into a bloodbath. Which fighter folds is any ones guess. This is one of the hardest fights of the year to guess who is going to win. I am leaning towards Mayorga (mostly because he smokes cigarettes during training and in the ring after a win), but the Pro-Vargas Staples Center crowd could play a factor. See you at ringside…
For the Best Deals on Boxing Tickets – all Upcoming Fights – (Click Here!)
The Rest is Up To You…
Michael Porfirio Mason
AKA The Peoples Champ
The Guide to Getting More out of Life
http://www.thegmanifesto.com
(Want to see something in The G Manifesto? Send suggestions to thegmanifesto@yahoo.com)
vargas – mayorga interview, Mayorga smokes, with press conference fight,

Mayorga reacts to the Vargas Pull Out of Sept. 8th Fight

mayorga vs trinidad highlight

Vargas vs. Mayorga: "The Brawl"