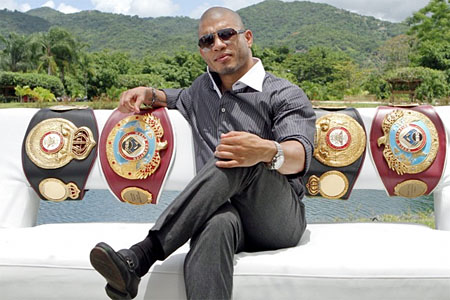 The G Manifesto Awards, The Best of 2011
Alright. Stop what your doing, because I'm about to ruin the image and style that your used to.
It is time again for The G Manifesto "Best of 2011" Awards.
Once again, these Awards are places or things that I have been to or experienced in 2011. So don't get itchy if your local dive bar in Denver or favorite P.F. Wang's in Poughkeepsie didn't make the list.
First, make sure you check out:
The G Manifesto Awards, The Best of 2007
The G Manifesto Awards, The Best of 2009
Best of Boxing 2011 Awards (We decided to break this one out this year).
Here are the rest of the Best of 2011, G Manifesto Awards:
Best International Nightlife City: Montreal, Canada. I am in love with this city. I am not sure of too many things, but this I am sure of: I will spend at least two months this summer in Montreal. Honestly, I think I can swoop a fly girl 8 out of 10 nights I go out there. It is probably closer to 10 out of 10, but I don't want to sound like I am bragging. I almost slit my wrists for not coming sooner.
Honorable Mentions: Bogota, Buenos Aires, The beach towns and Summer Festivals of Spain
Best US Nightlife City: Miami Beach. Easily the top spot in the USA. Puts the West Coast to shame.
Honorable Mentions: New York City. I had too much success there in 2011 to leave it out.
Most Overrated US Nightlife City: Los Angeles. California has become a Police State, and Wessyde nightlife has gone down the tubes with it. California nightlife needs a whole new start like a person with a severed arm needs a tourniquet and a shot of tequila.
Best Gentleman's Club City: Montreal. Didn't really hit up too many Gentleman's Clubs this year. But I went undefeated in Montreal.
Best US Nightclub: Mynt, Miami Beach. Still holds strong after all these years. Took a loss here, but also had many KO's.
Best US Nightlife District: Brickell, Miami. Quality of girl is off the charts.
Best US Restaurant for Fly Girls: Cipriani's. No single restaurant in America holds as many stunners.
Best International Nightclub: Andre Carne de Res, Bogota. I don't get impressed by nightclubs any more. Well, that's until I stepped into Andre Carne de Res in Bogota. Place is sicker than a cancer victim.
Best High-Action City: Abidjan , Ivory Coast. It went off the rope earlier this year. I hit a decent Cocoa trade playing the political takeover as well. To be frank though, the time I spent on the horn and researching that trade, it wasn't that great.
Best Day Game City: Miami Beach. Lincoln road. No question.
Best Beach: El Sardinero, Santander, Spain is more breathtaking than northern California's coastline. And more striking than La Jolla, California.
Best International Restaurant: La Taberna del Gourmet, Alicante, Spain. The food is so good it made old E-tab and Cocaine buzzes hit me. Seriously, my nose got sweaty while dining here. Ate here three nights straight at one point.
Honorable Mention: Toque and Au Pied Du Cuchon, Montreal. Both these restaurants are straight crack.
Best Trade: The Silver trade. I rode the silver miners up and sold out earlier in the year. And unbelieveably sold out of my paper silver near the top. Super lucky. Now I buy physical on the dips.
Best US Restaurant: Joe's Stone Crab. Miami Beach's answer to former G Manifesto "Best of" winner, Galitories. Illmatic. I even got a table on the last day of Stone Crab season with two fly Latinas.
Best International Hotel: Hotel Maria Cristina, San Sebastián, Spain.
Best US Hotel: The Plaza Hotel, NYC.
Worst US Hotel: Shore Club, Miami Beach. Place has slipped. The service is a joke compared to Las Vegas. Place kind of made me edgy. And that is not easy to do.
Greatest Loss: Joe Frazier. Rest in peace.
Quote of The Year: "It's so crazy. I am in America. The country that I represent, the Red, White and Blue. I make money in America. I feed the American citizens, I feed the people that are less fortunate in America. Even when I make it rain, I am still throwing money to Americans!." By Floyd Mayweather Jr. at the post Victor Ortiz Fight presser.
That quote would have been hilarious alone as a joke. But the fact that Floyd was dead serious when he said it not only makes it the "quote of the year" it makes it the funniest thing said all year as well.
Best Movie: The Business. Finally a real International Playboy in a movie. Of course, it wasn't a Hollywood movie, but that is to be expected.
Best Documentary: Square Grouper by the makers of Cocaine Cowboys.
Best Short Film: I still have soul (HBO Boxing)
Best Actor: Mike Tyson in The Hangover 2
Best Actress: Don't know. Probably some P0rn girl.
Best Hip-Hop Album: Oneirology by CunninLynguists
Best Hip-Hop Track: Pusha T- Don't Fuck With Me (Drake Diss) Someone had to destroy Drake. And who better to do it than Pusha T?
"Rappers on their sophomores, actin' like they boss lords
Fame such a funny thing for sure
When n*ggas start believing all them encores
I'm just the one to send you off, bonjour"
Best Break out Hip-Hop Artist: Action Bronson. Bringing back those hard New York Street bangers for your ear drums.
Best Soul Track and Album: Raphael Saadiq, Stone Rollin
Best Blog: Sovereign Man by Simon Black
Best Forum: RooshvForum. The only forum for International Playboys.
Best Heist: The Federal Reserve and European Central Bank. We are getting Hustled only knowing half the Game.
Biggest Robbery: Manny Pacquiao's "win" over Juan Manuel Marquez.
Woman of The Year: My MOM.
G's of The Year: Miguel Cotto and Nicolas Berggruen. Cotto is an obvious choice. If you are not familiar with Berggruen, you should be. This guy is the ultimate International Playboy/ Perpetual Traveler. Peep the Data Sheet on the cat:
Long before dabbling with blank-check companies, Berggruen had already made enough money to buy all of the trappings of the ultrarich: a Fifth Avenue apartment in Manhattan, a mansion on a private island near Miami, the Gulfstream IV and artworks by Damien Hirst, Jeff Koons and Andy Warhol. Berggruen says that living amid all of that luxury turned into a burden and didn't make him happy.
Buffett Pledge
"I understand the human instinct to want to create a nest and possess things, to show them off," he says. "But for me personally, it became less and less interesting."
So in 2000, Berggruen sold his houses, put his art collection in storage and gave away or sold most of his possessions, including his car. He says his decision to live a rootless existence wasn't a means of dodging taxes; he says he pays them in the U.S.
The investor, who signed a pledge promoted by fellow billionaires Warren Buffett and Bill Gates to donate at least half of their wealth, says he'll give away all of it eventually.
"Everything I do now is about growing the pot to have more to give away," he says.
He has never married and says he is not interested in having children. Berggruen has been photographed at charity and fashion events arm in arm with a series of actresses and models, including Gabriella Wright, a British actress.
It looks like his Wessyde Base of Operations is The Peninsula hotel in Beverly Hills. A place I am not all that unfamiliar with for knocking back some early night cocktails.
He still should bust a pocket square, but no one did it bigger and better than Berggruen and Cotto in 2011.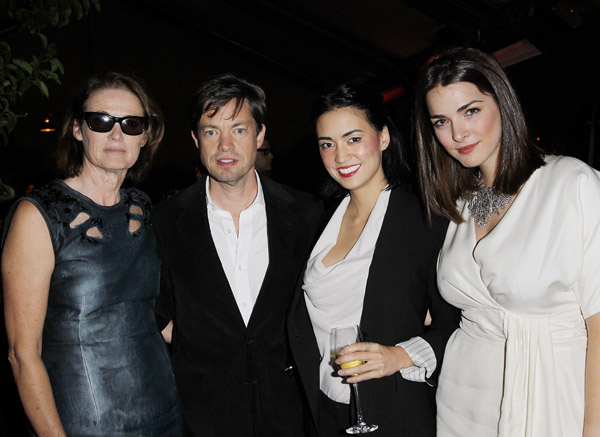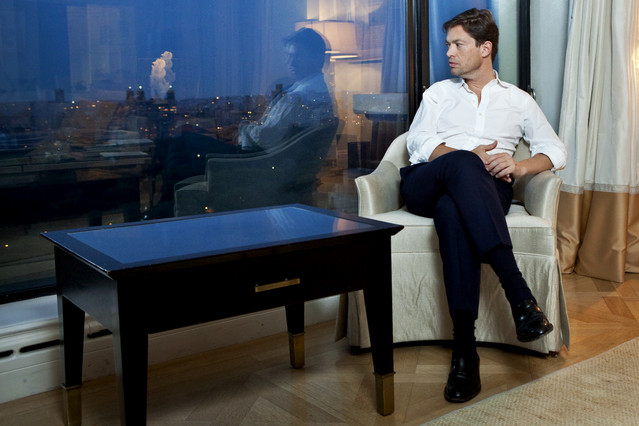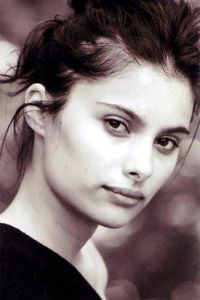 Already making heavy, and I mean heavy moves in 2012. Should be an even better year.
Click Here for The G Manifesto's Free Gentleman's Club Report
Click Here for Roosh's Day Bang: How To Casually Pick Up Girls During The Day
The Rest is Up to You…
Michael Porfirio Mason
AKA The Peoples Champ
AKA GFK, Jr.
AKA The Sly, Slick and the Wicked
AKA The Voodoo Child
The Guide to Getting More out of Life
http://www.thegmanifesto.com