Best of Boxing 2011 Awards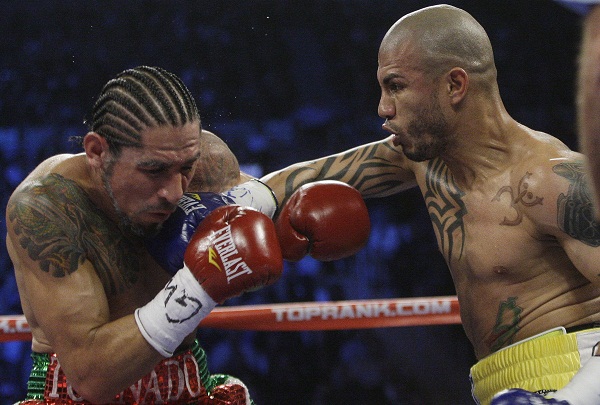 Best of Boxing 2011 Awards
Best Win:
Cotto VS Margarito II. I might not have technically been the "best fight" of 2011, but Cotto's revenge stood out a the greatest win in Boxing for 2011. Hell, it was the greatest win in all of sport for 2011.
And if you think about it, this win erases the Margarito "loss" and only leaves the Pac-Man loss on Cotto's ledger. Cotto is back in biz in a big way.
Best Fights:
These fights were all tops in my book.
Alfredo Angulo vs James Kirkland. Unbelievable come from behind win for Kirkland.
Andre Berto vs Victor Ortiz. This fight was pure amazing. I am a big fan of trading knockdowns so Round 6 was a modern day classic in my eyes.
This fight even had Emanuel Stewart saying "Oh my God!" And you don't hear that very often.
Akira Yaegashi vs. Pornsawan Porpramook. Almost everyone slept on this thrilling beauty. Who says "Minimum Weight" fighters can't throw it down?
Erik Morales vs Marcos Maidana. Two of the toughest guys in boxing show you how its done. Pure heart and soul.
Bernard Hopkins Vs Jean Pascal II. My main man Bernard (remember I used to roll in his entourage back when I was a young proto-type G. Watch the old fights, I was the handsome, dashing kid in the Custom Suit. Or just look for the only non-African American cat) does it again. Masterful performance in becoming the oldest man in the history of the sport to win a major world title, supplanting George Foreman.
Fighter of the Year:
Miguel Cotto. Thought it wasn't? When was the last time you came back from a soul sapping, crushing defeat with loaded gloves to put on a performance of a lifetime? Honestly, I can't believe the mainstream media didn't give Cotto more credit.
Let's get a little Latin flavor on this:
Future World-Wide Superstar:
Saul "Canelo" Alvarez. The kid is Mexican, and looks Irish. And fights like both. Great extension on his punches. Real power. Loves to fight. Dates a former Miss Mexico Universe, so his "International Playboy" street cred is in order. What is not to like about this kid? Four big wins in 2011. Canelo is the future of boxing.
Knockouts of The year:
Floyd Mayweather's KO of Victor Ortiz. I am sure I will get a lot of flack for chosing this one, but I loved it. Protect yourself at all times.
Fernando Montiel vs. Nonito Donaire. Now this was nice.
Zab Judah KO's Kaizer Mabuza. Brooklyn's own Zab Judah has still got it. Very Mayweatheresque move.
Gary Russell Jr. vs. Heriberto Ruiz. Washington, DC's own Gary Russell Jr. is one to watch. Beautiful. Speed = Power.
Best Handspeed:
Gary Russell Jr. Keep your eye on this cat. Literally and figuratively.
Yuriorkis Gamboa. The Cuban kid brings the Meth.
Upset of the Year:
Lamont Peterson over Amir Khan. Sure it was a hometown decision. But what do you expect? It's Boxing.
Robbery of The Year:
Manny Pacquiao VS Juan Manuel Marquez III. Marquez won this one. Everyone I respect in the boxing world that I have spoke with agrees.
Paul Williams vs Erislandy Lara. The Cuban one this one too.
Prospect of The Year:
Jose Benavidez, Jr. I have seen this kid at The Wildcard, and he is the Holyfield.
Click Here for Home Boxing Workouts
Click Here for Steve Iser's Commission Crusher
Click Here for The G Manifesto's Free Gentleman's Club Report
The Rest is Up to You…
Michael Porfirio Mason
AKA The Peoples Champ
AKA GFK, Jr.
AKA The Sly, Slick and the Wicked
AKA The Voodoo Child
The Guide to Getting More out of Life
http://www.thegmanifesto.com