The Best Halloween Costumes for Guys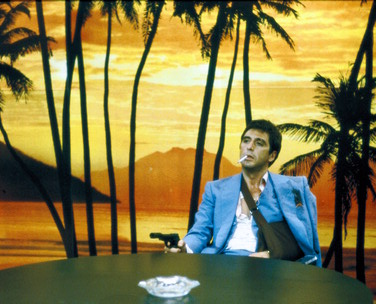 The Best Halloween Costumes for Guys
(Here is my Facebook and New Twitter)
Buy Halloween Costumes Click Here!
Click Here to Download The G Manifesto's Free Gentleman's Club Report (pdf)
Best Strip Club Halloween Costumes
I have been getting tons of emails lately such as, "What is the Best Halloween Costume for a G to wear?" or something to the tune of "I am going to a sick Halloween gig this year, what is the best costume?" Decent questions, all in all. I am going to go out on a limb and assume that when people say "Best" they mean the "Best Halloween Costume to Pick up Girls in". Fair enough?
Click Here for Halloween Costumes 2010
Now, keep in mind, I don't really go out on Halloween anymore and I have mentioned this before in: Halloween Parties and Vampire Naps. To be quite honest, I don't really go out on Holidays at all. Too many cops, guys, snitches, informers, protective boyfriends, grasses and corporate fools. (In fact, I am having trouble even going out on weekends nowadays. Weekends are for working stiffs. Tues, Wed, and Thurs you can get your most solid work done. And when I say "solid work" I mean swooping the flyest girls. Mondays are bad, because of Thurs seafood deliveries. Unless, of course, you go to Le Bernardin in NYC).
(Click Here for The G Manifesto's Top Ten ways to Make Money in a Down Economy)
First off, here are some definite "Don'ts" for Halloween Costumes:
No face paint. (The stuff will get in your eyes and end up running down your face at some point in the night. Plus, you should want to take advantage of your good looks. You are in your prime, right?)
No "shirt off" costumes. (unless your gay)
No spandex. (If I need to explain this, your problems don't end there.)
Now, keep in mind, I haven't "battle tested" many of these costumes. But, I have picked the brains of many trusted sources and G's active on The International Playboy Circuit, to come up with this data sheet on The Best Halloween Costumes for Guys:
The Classics:
The Mummy: Bad Idea, dressing up in toilet paper isn't going to get you any girls.
Spiderman: No. Spandex. This also goes for Superman, Batman or any of those other clowns. Aquaman? Do me a favor. This is real life, not HBO's Entourage. For the record, I out-Gamed Marky Mark heads up back in the day for a fly girl in Hollywood. And she was from Boston! Come on Marky? Skip along and go find your Funky Bunch. Dancing around in your underwear? That guy is so weesh. But I digress. Back to The Best Halloween Costume…
Buy Halloween Costumes Click Here!
Pirate: Good move, especially if you spin it like a Pirates of the Caribbean-Johnny Depp style costume. Fly girls buy into that Hollywood-Johnny Depp crap, if you haven't noticed.
Dracula: Best choice of the classics by far. Real good for submissive girls. You get to slick back your hair, and dress in black. Can be pretty sinister. Pretty haunting like Hope Sandoval's voice. It's no secret that Fly Girls like Vampires.
Click Here for the Best Halloween Costumes for 2010
Time Period Costumes:
50's Greaser: I wouldn't recommend it. But, could be good for swooping white trash girls.
60's Hippy: Not bad if you spin it into some drugged out Jim Morrison type cat. Also, girls that like weed and pills will probably step to you. Which is never a bad thing.
Click Here for The 4-Hour Workweek, Expanded and Updated: Expanded and Updated, With Over 100 New Pages of Cutting-Edge Content
70's Disco Cat: Best bet. You can wear fly clothes and if you are carrying drugs, you can play it off as some kind of "prop".
The Whispers – And The Beat Goes On

"Funny" Costumes:
Not really a fan of "funny" costumes. The guy dressed as a "Condom" never gets any girls. Keep in mind, however, that wearing Condoms with any girl you meet on Halloween dressed in some scandalous outfit is advisable.
Occupational Based Costumes:
Fireman: I have heard from some fairly reliable sources that the Fireman does get chicks on Halloween. I could see it working especially well on girls with Blue-Collar backgrounds. Hell, might even work on Sophito Girls too.
Buy Halloween Costumes Click Here!
Pimp: Pretty standard choice. Works pretty well on girls that have ever thought of a career in "The Life". Which, these days, as much as we don't want to face it, most girls have. Just, don't be a rest haven for girls.
Doctor: Best bet. Later in the night, when everyone is out of their mind, you will seem more "trustworthy". "Prescription pad" can be used for getting girls digits. "Pill bottle" you can use to hold Beans.
Celebrities (Personally, I hate Celebrities, except for heisting their cribs or their girlfriends, but if you must):
Pro Athletes: Bad move. You will only have guys coming up to you and high-fiving you all night. (Although, wearing a vintage Allen Iverson G-Town Jersey could be dope.)
Hugh Hefner: Best Bet. Unoriginal, but who cares? Best to be a young Hef vs and old Hef. Plus, it's an easy costume to put together; just grab the custom red velvet smoking jacket and Italian silk purple pajamas from your closet and you are ready to go. Added bonus: The young Hef used to smoke cigarettes, so you can chain-smoke all night. If some girl you are with complains of your constant smoking you can say you just want to stay "In character". Smooth.
Click Here to Download The G Manifesto's Free Gentleman's Club Report (pdf)
Click Here 007 Lifestyle – Living Like James Bond!
Group Costumes:
Baseball Furies: Face paint, don't do it. However, you do get to carry a baseball bat though, in case things get dicey.
Run-D.M.C.: Pretty dope. Just make sure you grab the Mic at some point in the night and have some skills:
"I met this little girlie, her hair was kinda curly,
Went to her house and bust her out, I had to leave real early
These girls are really sleazy, all they just say is please me,
Or spend some time and rock a rhyme, I said "It's not that easy".
Run-D.M.C. – It's Tricky (listen for the GO-GO beat at the begining)

Alex and the Droogs (A Clockwork Orange): Not bad, especially from a young G's perspective. The problem is you will end up in a fight and/or destroying property that night. Just, make sure you are Alex. Dim gets no chicks.
Movie Costumes:
Star Wars: No. I don't care if your Puke Skysnotter, Barf Vader, Ham Salad or Chewbacon.

Zorro: Not a bad choice. Girls like Zorro. Plus, you get to wear a mask, if you want to do a Heist.
Patrick Bateman (American Psycho): Great choice. You can dress sharp, carry a gun, tons of cash and drugs. Sounds like a regular Tuesday night. Make sure you have a reservation at Dorsia.
Click Here for The G Manifesto's Top Ten ways to Make Money in a Down Economy
Don Juan (Demarco): Real Good choice. You have the Johnny Depp factor in your favor and centuries of playboy lore working for you. If you can't swoop fly girls dressed as Don Juan, then you really need to do some re-evaluation on your Game.
Buy Halloween Costumes Click Here!
Tony Montana: Second best Choice of all. You are sharply dressed, full of swagger, smoking fine Cigars and cigarettes, Latin, Tooled up and suited down. You are dressed as men are supposed to dress and you don't have to sacrifice personal style. Plus, you can have tons of Beeks on you and everyone will just think it is part of your costume. But then again, you should be like this every night, not just Halloween.
Manolo (from Scarface in case you have been living under a rock for the last 20 years): Best Choice of All. You get all the advantages of Tony but you get more girls. (You can skip the double-breasted suit if you like.) Tony was always about "In this country, you gotta make the money first. Then when you get the money, you get the power. Then when you get the power, then you get the women." Manny was down with that also but he changed the order to Women – Power – Money. I like it in that order also. The G Manifesto Way.
In closing, The G makes the Halloween Costume; the Halloween Costume doesn't make the G.
And sign up for The G Manifesto Newsletter:
The Rest is Up to You…
Michael Porfirio Mason
AKA The Peoples Champ
The Guide to Getting More out of Life
http://www.thegmanifesto.com
(Want to see something in The G Manifesto? Send suggestions to thegmanifesto@yahoo.com)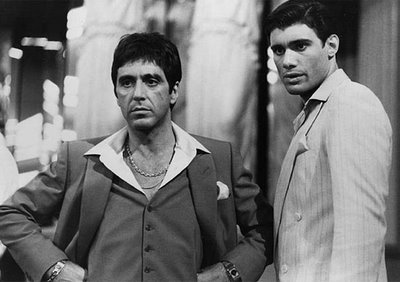 Scarface – Push It To The Limit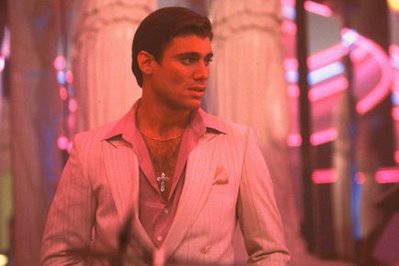 Cocaine Cowboys trailer (Or just buy it here: Cocaine Cowboys)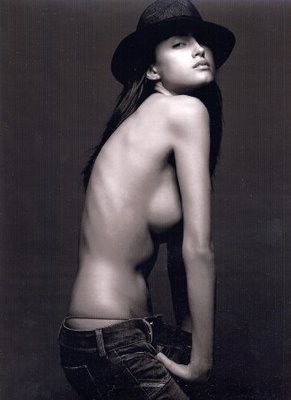 Born On Halloween by Blue Magic