Top Ten Urban Artists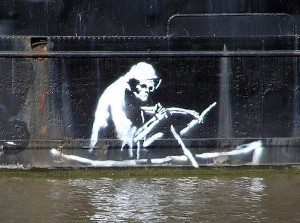 Top Ten Urban Artists
Click Here to Buy Banksy's Wall and Piece
The urban art gallery, artrepublic, has launched its 2008 top ten of who's made the biggest impact in the UK urban art scene in 2008 and who's set for even bigger stardom in 2009. The list is compiled from sales and customer feedback reports, together with an 'insider' view of the cutting edge art market.
Sitting at the top of the list is urban legend, Banksy, who has a global cult following and whose works generate cash, controversy and admiration in equal measure. Banksy is followed by MissBugs – a duo of Muse and Artist – who came from out of nowhere this year with sell-out shows and had collectors queuing for their superhero-inspired work.
Third on the list is Nick Walker, a Bristol-based contemporary of Banksy whose pictures are now soaring in value. Coming up fourth is the Frenchman known as C215 – who according to Art Republic, 'literally lives for stencils' – followed by Charming Baker, who puts an unusual twist on the still life genre.
Click Here to Buy Banksy's Wall and Piece
In sixth place is another Frenchman, Blek Le Rat, who had considerable influence on the now more famous Banksy and who has been in hiding for years as the French police pursue him with a massive graffiti fine. Next up on the list is a supposed descendant of Thomas Moore who goes by the name Pure Evil and already has work on display in the Tate Modern.
My only question is: Where is SOME?
Oh yeah, he is from America.
Click Here to Buy Banksy's Wall and Piece
The Rest is Up to You…
Michael Porfirio Mason
AKA The Peoples Champ
AKA El Campeón De La Gente
The Guide to Getting More Out of Life
The Guide to Getting More Out of Travel
http://www.thegmanifesto.com
ROLL DEEP – JEALOUS

Roll Deep – Remember The Days