Russia Hoarding Diamonds as Investment
Russia Hoarding Diamonds as Investment
Click Here for Glitter & Greed: The Secret World of the Diamond Cartel
The global recession sapped demand for all kinds of commodities — like steel and grain — yet small burlap bags are still arriving by the planeload at Russia's state-owned diamond company.
Each day, the contents of the bags spill into the stainless steel hoppers of the receiving room. The diamonds are washed and sorted by size, clarity, shape and quality; then, rather than being sent to be sold around the world, they are wrapped in paper and whisked away to a vault — about three million carats worth of gems every month.
Click Here for Glitter & Greed: The Secret World of the Diamond Cartel
Russia quietly passed a milestone this year: surpassing De Beers as the world's largest diamond producer. But the global market for diamonds is so dismal that the Alrosa diamond company, 90 percent owned by the Russian government, has not sold a rough stone on the open market since December, and has stockpiled them instead.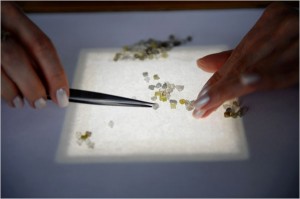 As a result, Russia has become the arbiter of global diamond prices. Its decisions on production and sales will determine the value of diamonds on rings and in jewelry stores for years to come, in one of the most surprising consequences of this recession.
Largely because of the jewelry bear market, De Beers's fortunes have sunk. Short of cash, the company had to raise $800 million from stockholders in just the last six months.
The recession also coincided with a settlement with European Union antitrust authorities that ended a longtime De Beers policy of stockpiling diamonds, in cooperation with Alrosa, to keep prices up.
Though it is a major commodity producer, Russia has traditionally not embraced policies that artificially keep prices up. In oil, for example, Russia benefits from the oil cartel's cuts in production, but does not participate in them.
Diamonds are an exception. "If you don't support the price," Andrei V. Polyakov, a spokesman for Alrosa, said, "a diamond becomes a mere piece of carbon."
How the buy-in price for the stones will be set, and how the company will determine when the price goes up and down, is unclear, Mr. Malinin said.
"We have to tell people that diamonds are valuable," he said. "We are trying to maintain the price, just as De Beers did, as all diamond producing countries do. But what we are doing is selling an illusion," meaning a product with no utility and a price that depends on the continued sense of scarcity where there is none.
Click Here for Glitter & Greed: The Secret World of the Diamond Cartel
The Rest is Up to You…
Michael Porfirio Mason
AKA The Peoples Champ
AKA GFK, Jr.
AKA The Sly, Slick and the Wicked
AKA The Voodoo Child
The Guide to Getting More out of Life
http://www.thegmanifesto.com
Cam'ron-Do ya Thing