Banksy VS Bristol Museum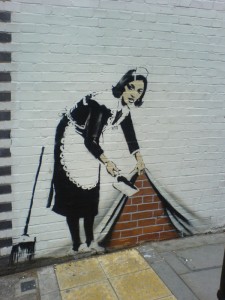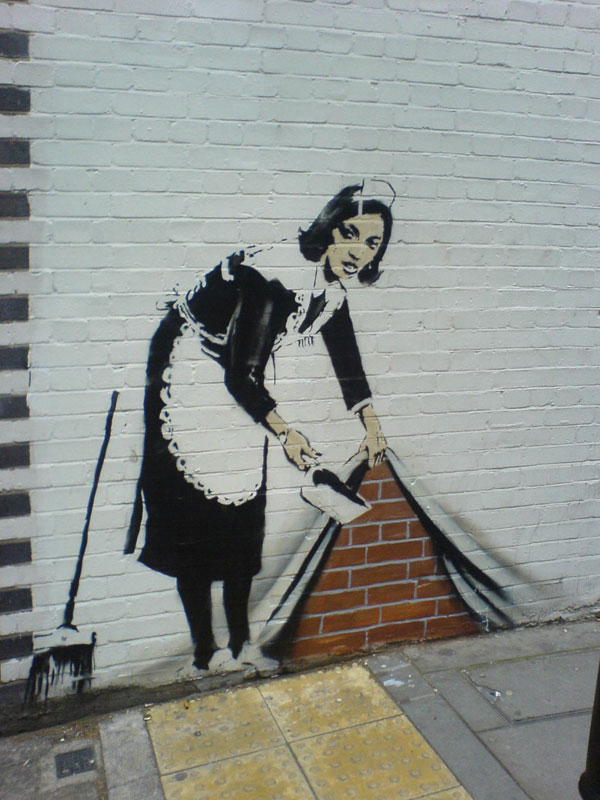 banksy
Banksy VS Bristol Museum
Click Here for Cocaine Cowboys
Click Here for Cocaine Cowboys 2: Hustlin' with the Godmother
Every so often, art breaks out of its confines to become an event. People who would never normally go to a gallery do so; they feel part of it when they would otherwise feel excluded. The last time this happened was when Olafur Eliasson put a giant sun and a mirrored ceiling in Tate Modern and teenagers rolled around on the ground making shapes they could see reflected in the roof.
And it's happening now at Banksy versus Bristol Museum, the exhibition the elusive graffiti artist suddenly unveiled last week, in which he has his "remixed" the museum's own collection by putting more than 100 of his own artworks among it – by far the largest Banksy show to date, of work mostly never shown in the UK before.
Click Here for Cocaine Cowboys
Click Here for Cocaine Cowboys 2: Hustlin' with the Godmother
On Saturday, the first day the show was open to the public, the queue snaked down the street and the waiting time was more than an hour. In it were children, grannies, trendy types. Everyone was taking pictures with their mobile phones (Banksy doesn't believe in copyright). The museum's guards were proudly pointing out the new additions to their displays. People were inspecting the fossils to find the teeny-weeny woman pushing a pram hidden among them; they were on their hands and knees to look at the mouse with a back-pack who had clambered into a natural history case.
The visitors' main focus was a large room lined with Banksy images. Here one can assess the work en masse. Lots of the art here is silly, lots of it obvious. The massive picture of a House of Commons populated by apes, for instance, is crass, schoolboy stuff.
Banksy Versus Bristol Museum

But the work here is also humorous and inventive. There's a devastating picture of starving African children, one of whom has a T-shirt saying: "I hate Mondays". There's a hilarious image of two shoddily drawn stick men, prettily mounted, with one of them asking, "Does anyone actually take this art seriously?" The other replies, "Never underestimate the power of a big gold frame."
Click Here for Cocaine Cowboys
Click Here for Cocaine Cowboys 2: Hustlin' with the Godmother
Banksy is the master of the surprising juxtaposition. In another room, full of his animated sculptures, there's what looks like a living, breathing cheetah, but when you see it from the back, you notice, with a chill, that it's been made into a fur coat.
In the best piece of the exhibition, in among the stuffed animals, there is a lamb that has been muzzled. What does it mean? A lamb conjures innocence, the Lamb of God. Is this a piece about censorship, the distortion of the spiritual, the end of innocence? It's very moving, reminiscent of Damien Hirst's toying with religious iconography but, pleasingly, so much simpler. When Banksy has the nerve not to be didactic and leave his pieces open to interpretation, he becomes sophisticated.
It is to be hoped that the artist will move further in this direction. But in the meantime, Banksy Versus Bristol Museum succeeds triumphantly in its aim: it's a museum show that is as cheeky and renegade – and communicates as directly with its viewers – as a piece of illegal graffiti.
I've attended some odd parties over the years – there was the one for Stannah Stairlifts, the Innocent Smoothies bash where I got driven around a Shepherd's Bush car park in a giant banana, and the Walker's Crisps event where everyone on the electoral roll named either Cheese or Onion was invited. But I've rarely been to one where neither the guests nor the hosts knew what they were doing there. "What is this all about?" I asked Ivan Massow on Monday night, at the launch of his new film spoof, Banksy's Coming for Dinner. "No idea," he shrugged wearily.
What is clear is that Banksy – the pseudo-anonymous graffiti artist – still provokes the same snorts of delight he drew at university, when the boys would huddle around his prints and marvel at the irreverence of it all. As party talk turned to the artist's exhibition at the Bristol City Art Gallery, one guest described him as "a true genius", another as "one of our greatest living artists".
But it's all old hat. Banksy's poke-fun-at-museums impudence was done 100 years ago by Marcel Duchamp. His stencil technique (always good for easy effects, as every child knows) was perfected in 1968 by Ernest Pignon-Ernest and Blek le Rat, and his political opinions are plonkingly conventional. A House of Commons populated by apes? Sharp stuff.
To his credit, Banksy had excelled at keeping his origins a secret. The exposé last year that suggested he wasn't the son of a painter and decorator, but educated at the £9,240-a-year Bristol Cathedral School, could have damaged the brand. As it was, being outed as an old friend of Samantha Cameron's must have undone a decade of careful pixellation.
The Rest is Up to You…
Michael Porfirio Mason
AKA The Peoples Champ
AKA GFK, Jr.
AKA The Sly, Slick and the Wicked
AKA The Voodoo Child
The Guide to Getting More out of Life
http://www.thegmanifesto.com
Banksy