Aaron "The Hawk" Pryor: The Original Manny Pacquiao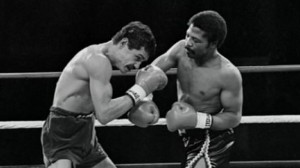 Aaron "The Hawk" Pryor: The Original Manny Pacquiao
Click Here to Download The G Manifesto's Free Gentleman's Club Report (pdf)
Click Here 007 Lifestyle – Living Like James Bond!
I have mentioned on here before that I have really been getting my box on real heavy lately and in addition, I have been watching a lot of old fight tape. Especially, one of my favorites when I was a young cub, Aaron "The Hawk" Pryor.
Many people think that there is no father to Manny Pacquiao's style. That's false.
Aaron Pryor fought very much the same as Pac-Man with his awkward skill, blazing hand and foot speed, semi-reckless aggression and crazy angles in his combination punching. I have always used a similar approach of controlled mayhem in regards to nightlife and swooping fly girls.
Check it:
Aaron Pryor – HAWK TIME (highlights)

His fights with the late, great Nicaraguan, Alexis Arguello, were the stuff violent dreams are made of.
The Hawk

The Hawk, always a sharp dresser and heavy partyer, had his career derailed with heavy drug use. But that happens to the best of us.
Check Aaron Pryor VS Alexis Arguello I

Who would win if Aaron Pryor and Manny Pacquiao fought?
Smart money on The Hawk.
Official Site of Aaron 'The Hawk' Pryor
Click Here to Download The G Manifesto's Free Gentleman's Club Report (pdf)
Click Here 007 Lifestyle – Living Like James Bond!
The Rest is Up to You…
Michael Porfirio Mason
AKA The Peoples Champ
AKA GFK, Jr.
AKA The Sly, Slick and the Wicked
AKA The Voodoo Child
The Guide to Getting More out of Life
http://www.thegmanifesto.com