Miguel "Junito" Cotto VS Ricardo "El Matador" Mayorga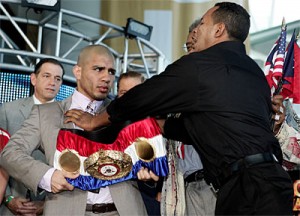 Miguel "Junito" Cotto VS Ricardo "El Matador" Mayorga
On March 12th, G Manifesto Hall of Fame members, Miguel "Junito" Cotto and Ricardo "El Matador" Mayorga will meet in the ring for what is sure to be a very entertaining battle of Machismo.
The war of words has already begun:
Ricardo Mayorga: "I respect your mother but I don't want her to suffer anymore. She cannot take any more of those beatings you've been taking. I will finish you off and your mother will be in peace at last. This won't take me long, about four rounds on March 12."
Miguel Cotto: "You have about seven more weeks to talk. Get it all out. Keep talking. Then we will go into the ring. That's when your talking stops."
Some pre-fight action:
Frente a frente Cotto y Mayorga

Ricardo Mayorga: "I'm going to make you think about retirement like Margarito should, after Pacquiao took care of him. I'm going to do the same to you and make you think twice about stepping back in that ring. Don't let your mom and your family suffer anymore by allowing yourself to continue to take beatings in the ring. Stop making them suffer, I'm going to knock him out and prove to everyone in Nicaragua. First time that I'm fighting someone who is as small as a kid. But the pay-per-view and watch the retirement party for Miguel. I'm going to convince him that he should retire."
and
"My pants are up higher than Cotto's. I'm going to be the man, and Cotto will be the woman. On March 12, Puerto Rico is going to be dressed in black for your funeral. I can see fear in your eyes. I will retire you".
Miguel Cotto: "Welcome all of you to Ricardo Mayorga's first press conference for his circus," said Cotto, speaking even as Mayorga continued to taunt him. "When you spoke earlier, I kept my mouth shut, now you remain quiet. I am a professional and with these tiny pants and these tiny hands I beat Shane Mosley. Do you remember Shane Mosley?
And
"Mayorga's whole career was a joke. I am a gentleman, you (Mayorga) are a joker and a clown. All your (Mayorga) career you have run off at the mouth and in all the big fights you've failed. Just so you know who I am, I am a three-time world champion."
Miguel Cotto Press Conference-NYC: Cotto vs Mayorga

The Rest is Up to You…
Michael Porfirio Mason
AKA The Peoples Champ
AKA GFK, Jr.
AKA The Sly, Slick and the Wicked
AKA The Voodoo Child
The Guide to Getting More out of Life
http://www.thegmanifesto.com
Miguel Cotto vs Ricardo Mayorga – Who Do You Think Will Win?