How To Deal With Girls That Are Sexting You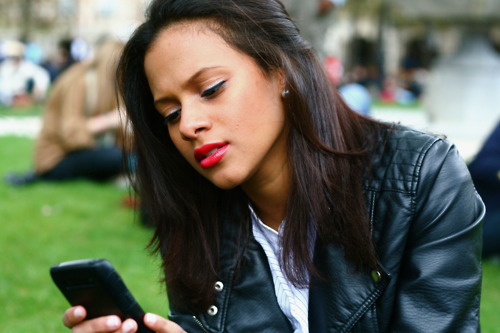 How To Deal With Girls That Are Sexting You
If you are anything like me, and you swoop mass amounts of fly girls in this day and age, you are bound to get mass girls "sexting" you non-stop (many times accompanied by racy photos). I mean, let's face it, the 18-26 year old girl set is "sexting bonkers" nowadays. Right?
You know, like the text message I got this morning:
"I am in bed soooo w*t thinking about you. you were in my dreams last night"
Or the one I got mid day during a biz lunch from another girl:
"Taking a hot steamy bath, I cant stop thinking about you and your b** ****"
Or the one I got later in the afternoon from another girl:
"As expected…I'm soaking w*t thinking about us the other night"
Or the one I got a few minutes later from another girl:
"I am addicted to your s*x…this is bad…I guess I am going to grab my toy"
Or the one…you get the broken picture.
(Side note: It is not really my language to use the word "sexting", but in an effort to make more people understand where I am coming from, I sometimes use mainstream vernacular.)
So how is a G supposed to respond to these "sext" messages, you ask?
Great question.
You should ignore it.
"Average guy", and "above average guy", even "pretty damn smooth guy" hell, even "Top 1% of Players Worldwide guy" would, of course, start "sexting" back and play into her hands (so to speak).
But what good is that really going to do?
G's like real swooping, not "sexting".
And as you should know by now, over here at The G Manifesto, we take a contrarian approach to life.
So, don't respond.
(Side note II: When I say "over here at The G Manifesto, we take a contrarian approach to life" I really mean we take a contrarian approach to "modern day" life. We really just do what Men have been doing for the last 10,000 years up until "men" started acting like girls, which was started about, say, 1997-2000 or so, in case you were wondering.)
Anyways, after a few hours or more of non-responding, shoot something to her like:
"Ok, meet me at 10pm for dinner and claret at the fountain in the Piazza. Remember, high heels and a skirt."
Smooth.
Click Here for Kershaw Leek Knife with SpeedSafe
Click Here for The G Manifesto's Free Gentleman's Club Report
Click Here for Roosh's Day Bang: How To Casually Pick Up Girls During The Day
Update:
Great interview with Kyle Bass on Sovereign Crisis, Japan, Gold and Guns:
I have to hand it to him, he does a good job of subtlety slapping around the chick interviewer.

The Rest is Up to You…
Michael Porfirio Mason
AKA The Peoples Champ
AKA GFK, Jr.
AKA The Sly, Slick and the Wicked
AKA The Voodoo Child
The Guide to Getting More out of Life
http://www.thegmanifesto.com
Patrice Rushen – Forget Me Nots