Roy Jones Jr. vs Felix "Tito" Trinidad, Prediction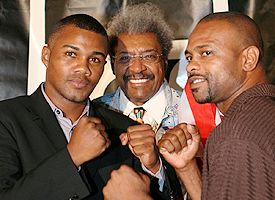 Roy Jones Jr. vs Felix "Tito" Trinidad, Prediction
Roy Jones Jr. (51-4, 38 KOs) of Pensacola, Florida will face Felix Trinidad (42-2, 38KOs), of San Juan, Puerto Rico at New York's famed Madison Square Garden on Saturday, Jan. 19, 2008.
Both fighters have had incredible careers and are both headed for the hall of fame. Roy Jones is an 8 time world champion and has held titles at middleweight, super middleweight, light heavyweight and heavyweight. Felix Trinidad is a 5 time world champion and has held titles at welterweight, junior middleweight and middleweight.
Both fighters have fought and beat excellent competition.
For the Best Deals on Boxing Tickets – all Upcoming Fights – (Click Here!)
Roy Jones holds victories over Antonio Tarver, Virgil Hill, Mike "The BodySnatcher" McCallum, Vinny "The Pazmanian Devil" Pazienza, James "Lights Out" Toney, and Thomas Tate.
Felix Trinidad has wins over Ricardo Mayorga, William Joppy, Fernando Vargas, David Reid, Oscar De La Hoya, Pernell "Sweet Pea" Whitaker, Maurice "The Thin Man" Blocker, and Hector "Macho" Camacho.
The fight will be held at a catch weight of 170 pounds.
Roy Jones is now 38 years old and Trinidad is 35. Trinidad has had a two year layoff going into this fight. Which really makes this fight anyone's guess who is going to win.
Jones has to have a size advantage as Trinidad has never fought over 160. Which is why it is difficult to see Roy Jones losing. Look for Jones to box and flurry with enough juice to earn a decision or some kind of late round stoppage.
But one Tito left hook could change the course of the fight.
Roy Jones Jr. vs Felix "Tito" Trinidad Tickets

The Rest is Up to You…
Michael Porfirio Mason
AKA The Peoples Champ
AKA The 7th Prince
The Guide to Getting More out of Life
http://www.thegmanifesto.com
(Want to see something in The G Manifesto? Send suggestions to thegmanifesto@yahoo.com)
Felix Trinidad buzzsaw's Ricardo Mayorga

Roy Jones Jr. Highlight/Tribute Video

Papoose – Hate it or Love it FREESTYLE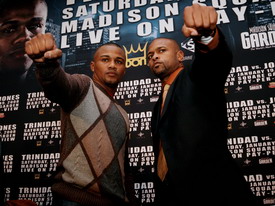 Roy Jones VS Felix Trinidad Tickets Click here