Ricky "The Hitman"Hatton VS Paul "The Magic Man" Malignaggi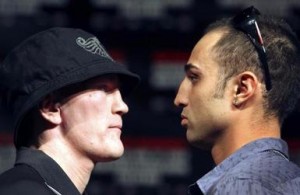 Ricky "The Hitman"Hatton VS Paul "The Magic Man" Malignaggi
PAUL MALIGNAGGI (KEYS TO VICTORY)
For Paul, this fight basically comes down to pure execution. No one disputes the fact that Paul is the better pure boxer of the two, but how well he deals with the constant pressure of Hatton will effectively dictate the final outcome. The last time Malignaggi dealt with a fighter this aggressive it didn't end up too well as he would suffer his first and only defeat, which came at the hands Puerto Rican star Miguel Cotto. Hatton is not Cotto, and certainly not as big in size, so Malignaggi will need to use this somewhat neutralized size effect to his advantage. Against a much bigger Cotto, Malignaggi was bullied, but against Hatton, Malignaggi's 5 inch reach advantage paired with slick boxing skills should help him.
RICKY HATTON: (KEYS TO VICTORY)
For Hatton, there are many paths to victory but the one that will work the best for him is the same blueprint that he applied to the 44 other men who fell victim….Pressure. Hatton comes into this fight with a corner adjustment that could prove to be precisely what the doctor ordered, as Floyd Mayweather Sr. takes over the helm in place of former trainer Billy Graham. What Mayweather brings to Hatton's corner is a controlled and more skilled element to his aggression. Hatton will need to infuse his patented pressure style with his newly acquired ability to know when to assert that pressure and perhaps when to substitute it with a few jabs or trap shots.
Here is my brief tale of the tape, along with some analysis on each boxer as well as the outcome of the fight.
Size: Hatton is a slightly more compact, 5'6" and 140 pounds while Malignaggi goes 5'7" and also 140 pounds.
Power: This category isn't even close as Hatton possesses the punching power of a much bigger man and Malignaggi possess almost no punching power at all with just five career Kos.
Speed: This category is also a mismatch as Malignaggi is much quicker with his hands than Hatton. Still, Malignaggi won't be able to hurt Hatton at all.
Age: Hatton is 30-years-old and Malignaggi will turn 28 one day after their bout on Nov. 22.
Brains: Some may think that Malignaggi is the smarter of the two because he has to 'out-box' his opponents, but I fully believe that Hatton is just as smart, usually setting his opponents up perfectly – before summarily knocking them out!
Boxing Odds
Ricky Hatton -300
Paul Malignaggi +200
The Rest is Up to You…
Michael Porfirio Mason
AKA The Peoples Champ
AKA The 7th Prince
The Guide to Getting More out of Life
http://www.thegmanifesto.com
Ricky "Hitman" Hatton – Blue Moon Video

Paul Malignaggi speaks about upcoming Hatton bout

Paul Malignaggi