Setai San Diego Hotel Almost Open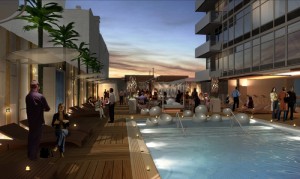 Setai San Diego Hotel Almost Open
Keep in mind that the Setai San Diego has NO relation to the dope Setai Miami Beach. They only share the name (who knows for how long).
In fact, the Setai Miami Beach people have gone as far as dissing the Setai San Diego saying it "cheapens the Setai Brand" and dissing San Diego saying that "they had no interest in entering the San Diego market, and the only reason they did is that the developer promised them Larry Flynt's building in Beverly Hills". (I am paraphrasing).
I have been following the Setai San Diego and so far it seems like a debacle and they are miss-timing the market to say the least.
The Setai San Diego is "a striking essay in aluminium, zinc and stainless mesh. You might want to rob a bank for the Grand Penthouse, which will open in February: at 5,000 sq ft, with a 4,000 sq ft terrace, it'll be the largest on the West Coast – hence the £13,400 a night tag. "That doesn't include tax [£1,675]," we're told, "but it does include breakfast." Pray it's all-you-can-eat. "
Not sure the on my exchange rates right now, but £13,400 is what? $21,000?
Supposedly The Setai San Diego is open for drinks tomorrow.
This might be San Diego's biggest Airball yet.
The Rest is Up to You…
Michael Porfirio Mason
AKA The Peoples Champ
AKA GFK
The Guide to Getting More Out of Life
http://www.thegmanifesto.com
Ruby & The Romantics – Our Day Will Come