Almeja Blanca 'Los Peperetes' – Premium Galician Clams
Almeja Blanca 'Los Peperetes' – Premium Galician Clams
(Here is my Facebook, New Twitter and The G Manifesto Facebook Page)
Click Here 007 Lifestyle – Living Like James Bond!
Crush It!: Why NOW Is the Time to Cash In on Your Passion
Click Here for Mack Tactics: World Famous Dating Program For Men!
I absolutely love seafood from Galicia.
Few things in life compare to Almeja Blanca.
Maybe a beautiful sunset. Or a dope glass of vino tinto. Swooping a fly girl.
Almeja Blanca are one of the kings of Galician seafood. These large, plump clams are harvested from the pristine sands of the Rias Gallegas, deep inlets in the shores of Galicia.
Hook some: Almeja Blanca 'Los Peperetes' – Premium Galician Clams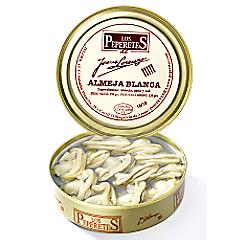 And enjoy with some Naiades Old Vines Verdejo 2005.
The famous winemaker, Eulogio Calleja, uses a blend of 50% Verdejo and 50% Viura/Sauvignon Blanc to make Las Brisas. Naia is 100% Verdejo which is aged sur lie for 4 months to accentuate the characteristics of the varietal. Naiades is crafted from the oldest ungrafted vines of Verdejo and aged for 8 months in French oak.
Crush It!: Why NOW Is the Time to Cash In on Your Passion
The Rest is Up to You…
Michael Porfirio Mason
AKA The Peoples Champ
AKA GFK, Jr.
AKA The Sly, Slick and the Wicked
AKA The Voodoo Child
The Guide to Getting More out of Life
http://www.thegmanifesto.com
Pepe Romero