Yuriorkis Gamboa defeats Orlando Salido and Brandon Rios stops Anthony Peterson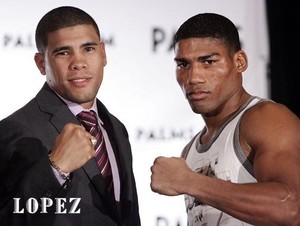 Yuriorkis Gamboa defeats Orlando Salido and Brandon Rios stops Anthony Peterson
Click Here for The G Manifesto's Gentleman's Club Report
Click Here 007 Lifestyle – Living Like James Bond!
In a featherweight unification bout at The Palms, Yuriorkis Gamboa (19-0, 15KOs) won a twelve round unanimous decision over Orlando Salido. Gamboa was quicker and better is almost every round. Gamboa suffered a flash knockdown in the eight round. He came back in the twelfth to send Salido down twice. On the second knockdown, Gamboa lost a point for hitting Salido while he was down. The scores were 116-109, 114-109 and 115-109.
Lightweight Brandon Rios (25-0-1, 18KOs) pulled off a minor upset with a dominating performance to defeat previously undefeated Anthony Peterson (30-1, 20KOs) by way of a seven round disqualification. After a good first round, Peterson lost his focus and began to brawl with Rios, the much bigger and stronger man. In the fifth, Rios dropped Peterson with a counter hook. In the sixth, Peterson landed a series of low blows to lose two points. In the seventh Peterson landed another series of low blows and the ref had no choice but to call for the DQ.
Yuriorkis Gamboa continues to impress with a showdown with Juan Manuel Lopez on the horizon. Gamboa really needs to keep his hands up though.
Washington, DC's own Anthony Peterson appeared to have a meltdown in the ring. You wouldn't know it from the fight, but Peterson actually has good movement and a good jab. I have no idea why he decided not to use them.
In other boxing news, Floyd Mayweather Jr. and Ricky Hatton had a rough week. But we don't need to get into all that negativity here. Doing a little blow is not the end of the world.
On a positive note, Devon "The Great," Alexander will be fighting Timothy "The Desert Storm" Bradley. Should be an excellent boxing match for purists.
Gamboa and Lopez interviews

The Rest is Up to You…
Michael Porfirio Mason
AKA The Peoples Champ
AKA GFK, Jr.
AKA The Sly, Slick and the Wicked
AKA The Voodoo Child
The Guide to Getting More out of Life
http://www.thegmanifesto.com
Yuriorkis Gamboa Highlights