Ricardo Mayorga: G Manifesto Hall of Fame Member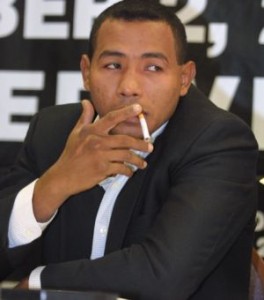 Ricardo Mayorga: G Manifesto Hall of Fame Member
Click Here for How to Pick up Strippers
Click Here 007 Lifestyle – Living Like James Bond!
Here is a good video of Nicaraguan boxer, wild man, cigarette smoker, and playboy, Ricardo Mayorga: G Manifesto Hall of Fame Member:
You can definetly see how Ricardo Mayorga, who was responsible for The Greatest Moment in California Smoking Ban History, was even more of a threat when he was younger and his speed matched is reckless aggression, iron chin, fearlessness and destructive punching power. (Later in his career, as his speed dwindled, his flaws ie lack of defense, and lack of technique were easier to expose by great boxers like Oscar de la Hoya and Sugar Shane Mosely).
Legend has it that as a young street gang leader on the mean streets of Managua, Nicaragua, he was approached by an older youth wielding a heater on a bicycle. Instead of getting broken, the young Mayorga grabbed the other chico's toaster, knocked him out and stole his bike. No official word as to whether or not Mayorga also stole his honey.
After getting stopped in his first pro bout and losing two other early fights (one of which he avenged), Mayorga went on a tear to win his first two world titles. He destroyed Andrew "Six Heads" Lewis (an excellent fighter who also happens to have one of the best nicknames in boxing history) and walked over the great Vernon "The Viper" Forrest twice, who was coming off two wins over the great Sugar Shane Mosley, and at the time was thought unbeatable. Then after losing his titles to Cory Spinks, Mayorga was in a modern day classic with Felix Trinidad only to lose by TKO in the 8th.
After the second Forrest win, Mayorga was featured for the first time on the cover of Ring Magazine smoking a cigarette. The cover read "The craziest man in the sport: Mayorga lights up boxing."
Mayorga's last great win was a "macho" constest decision over a fading Fernando "The Aztec Warrior" Vargas.
Young G's are wise to familiarize themselves with The Matador's catalog of fights.
Supposedly, Mayorga will return to the ring on the undercard of the WBC heavyweight final elimination bout -with the winner earning the right to face Vitali Klitschko- between 2004 Olympic gold medalist and now undefeated Odlanier "La Sombra" Solis (16-0, 12 KOs) and WBC No. 1-ranked Ray "The Rainman" Austin (28-4-4, 18 KOs).
A breakdown of Manny Pacquiao vs Antonio Margarito coming soon.
Click Here for How to Pick up Strippers
Click Here 007 Lifestyle – Living Like James Bond!
The Rest is Up to You…
Michael Porfirio Mason
AKA The Peoples Champ
AKA GFK, Jr.
AKA The Sly, Slick and the Wicked
AKA The Voodoo Child
The Guide to Getting More out of Life
http://www.thegmanifesto.com