Sergio Martinez KO's Paul Williams in Second Fight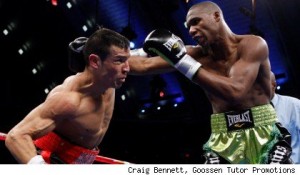 Sergio Martinez KO's Paul Williams in Second Fight
If you like The G Manifesto, fill out this quick G Manifesto Survey
Picture perfect perfection:
Sergio Martinez is now The Middleweight Boss.
I didn't have time to do a write up on this fight, but I didn't think Sergio Martinez would take him out that quick. I still got to place a little bet on this this one so I got a little extra walking around money, which is all that matters.
Watch that KO again. Pretty damn electrifying.
The Rest is Up to You…
Michael Porfirio Mason
AKA The Peoples Champ
AKA GFK, Jr.
AKA The Sly, Slick and the Wicked
AKA The Voodoo Child
The Guide to Getting More out of Life
http://www.thegmanifesto.com