Juan Manuel Marquez Stops Michael Katsidis in Modern Day Classic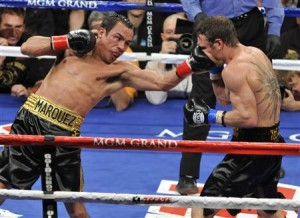 Juan Manuel Marquez Stops Michael Katsidis in Modern Day Classic
If you like The G Manifesto, fill out this quick G Manifesto Survey
Juan Manuel Marquez retained his WBA and WBO lightweight titles with a bruising ninth-round technical knockout of Michael Katsidis on Saturday night.

Marquez bided his time in the decisive round before hitting Katsidis with a flurry of punches — a series of uppercuts and straight rights that had the challenger backing away.

Finally, referee Kenny Bayless stopped the fight at 2 minutes and 14 seconds, giving Marquez (52-5-1, 37 KO) a TKO over the rugged Katsidis.

"We knew it was going to be a difficult bout. It was so difficult he even surprised me," Marquez said afterward through a translator.

The surprise? Katsidis (27-3) knocked Marquez to the mat with a left hook in the third round after the champ left himself wide-open.

Not surprising? This was one heck of a fight.
Some thoughts:
Both Juan Manuel Marquez and Michael Katsidis are always worth the price of admission. (Michael Katsidis is the world's best answer to the tragic passing of G Manifesto Hall of Fame Member Arturo Gatti, Click Here to watch Arturo "Thunder Gatti VS Irish" Micky Ward Trilogy Fight Video) Putting them together in the same ring was a no-brainer all action fight, like I said it would be.
Katsidis dropped Marquez with such a classic left hook it was unbelievable. Katsidis also has one of the strangest short right hands on the inside I have ever seen. Not that effective.
Juan Manuel Marquez is an incredibly accurate puncher. Especially on the inside or while backing up under pressure. It makes it all the more amazing that Mayweather was able to make him miss so much during their fight.
Marquez's left hook to the body is a thing of violent beauty. Puro Mexicano.
HBO Boxing: Juan Manuel Marquez vs. Michael Katsidis Highlights (HBO)

However, the best thing Marquez does is he stays so calm when he is under tremendous pressure. He actually loves it and is at his best in this position. This is the reason he arguably beat Manny Pacquiao both times. And the reason he was shut out by Floyd Mayweather, Jr.
If we can't get Floyd Mayweather, Jr. VS Manny Pacquiao, I would be certainly happy with Juan Manuel Marquez VS Manny Pacquiao III.
Top 4 Pound for Pound Fighters in The World
1. Floyd Mayweather, Jr. and Manny Pacquiao (tie)
3. Sergio Martinez
4. Juan Manuel Marquez
And there you have it.
Click Here for How to Pick up Strippers
Click Here 007 Lifestyle – Living Like James Bond!
The Rest is Up to You…
Michael Porfirio Mason
AKA The Peoples Champ
AKA GFK, Jr.
AKA The Sly, Slick and the Wicked
AKA The Voodoo Child
The Guide to Getting More out of Life
http://www.thegmanifesto.com
juan manuel marquez highlights