Manny Pacquiao and Why Boxing is Dope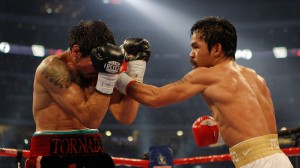 Manny Pacquiao and Why Boxing is Dope
If you like The G Manifesto, fill out this quick G Manifesto Survey
I haven't had a chance to re-watch Manny "Pac-Man" Pacquiao's destruction of Antonio "Tijuana Tornado" Margarito but I pretty much called it here.
A couple of post fight thoughts:
Margarito did better than I thought. Even though they won't admit it, plenty of Manny Pacquiao fans were nervous as hell during the first two rounds when Margarito was jabbing and using his size. For a moment or two, I really thought Manny was going to get seriously hurt. It is a true testament to how incredible Manny is that he was able to punish Margarito in such convincing fashion.
Margarito definitely hurt Pacquiao a few times. It was probably the closest one-sided fight I have ever seen.
That being said, Margarito's corner should have stopped the fight in the 8th or 9th round.
One of the most amazing things Pacquiao does that no one talks about is his ability to never seem hurt. Trust me, this is a great skill to have. And Manny has it. He showed it in the fight with Cotto when Cotto hit him to the body.
And he showed it in this fight the few times Margarito had Pacquiao on the ropes and ripped him with body shots and uppercuts.
Pacquiao should definetly not step up and fight Sergio Martinez. Martinez would kill him. Too big, too athletic and too fast.
Here is why Boxing is Dope:
I still have a soul (HBO Boxing)

That could be the best movie I have seen all year. Short, sweet and inspirational. Only in Boxing can a street kid go from selling cigarettes on the curb to becoming Congressman and a country's most beloved citizen. For The People.
On another note, The Wall Street Journal had a good article about how Tiger Woods is a dork and Manny Pacquiao is dope:
As a reentry, it was better than Mr. Woods's stiff round of confessionals last spring, but it still felt choreographed and soaked in self-helpy aphorisms ("I'm not the same man I was a year ago.") It's nice to hear Mr. Woods claim he is happier, but was anyone still needing an update? We're fatigued by the unsolicited amends. We just want to see him play better golf.

Amid Mr. Woods's strange anniversary celebration, we couldn't help but think of another superstar athlete, one who appears to be everything Tiger's fans and enablers hoped he would be, but wasn't: Manny Pacquiao.

Like Mr. Woods, Mr. Pacquiao is bigger than his sport. Like Tiger, he is a global icon, whose influence and talents are described in hushed tones. Mr. Pacquaio is considered by many to be the dominant fighter of his generation—he's won eight different titles in eight different weight classes, the latest coming last Saturday, when he dissected Antonio Margarito, who was five inches taller and 17 pounds heavier. Mr. Pacquiao's only unrealized goal is a date with the undefeated Floyd Mayweather Jr., a worthy rival who seems content to delay and self-destruct.

Mr. Pacquiao, like Mr. Woods, is a Nike paragon. But in the Pac-Man's case, the largeness of the image feels earned. As he redefines his sport, Mr. Pacquiao is also serving as a Congressman in the Philippines. This job has been characterized by some as a dilettantish distraction, but those close to the fighter describe him as genuinely torn between the ring and politics. "He takes [Congress] really, really seriously," Mr. Pacquiao's trainer, Freddie Roach, said recently. "He's a different person there."
In short, Tiger Woods couldn't carry Manny Pacquiao's gym bag.
We knew that already, but it is nice to see main stream media agreeing with The Truth.
Click Here for How to Pick up Strippers
Click Here 007 Lifestyle – Living Like James Bond!
Update:
I forgot that there is a triple header tonight.
Look for Celestino "Pelenchin" Caballero too be too much for "The American Boy" Jason Litzau. Andre Berto should stop Freddy Hernandez and Juan Manuel Marquez should finish the brave Michael Katsidis in an all-action brawl.
The Rest is Up to You…
Michael Porfirio Mason
AKA The Peoples Champ
AKA GFK, Jr.
AKA The Sly, Slick and the Wicked
AKA The Voodoo Child
The Guide to Getting More out of Life
http://www.thegmanifesto.com