Manny "Pac-Man" Pacquiao VS Antonio "Tijuana Tornado" Margarito: Prediction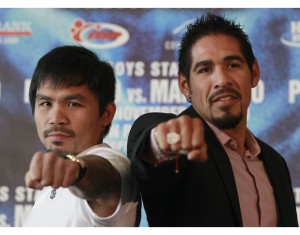 Manny "Pac-Man" Pacquiao VS Antonio "Tijuana Tornado" Margarito: Prediction
Click Here for How to Pick up Strippers
Click Here 007 Lifestyle – Living Like James Bond!
The fight that no one wanted, Manny Pacquiao VS Antionio Margarito will take place at Cowboys Stadium in Arlington, TX, Saturday, November 13th at 9 p.m. ET/6 p.m. PT on HBO PPV.
First off, how did Margarito even get this fight?
Oh yeah, I forgot, Pacquiao and Margarito both share the same promoter, Top Rank. Bob Arum gets high marks for craftyness and greed on this one. But let's not get me started about the politics of boxing, let's discuss the fight:
Weight
Manny Pacquiao VS Antionio Margarito, if I am not mistaken, is going to be fought at a catch weight of 150 pounds. On paper, this shouldn't be much of an issue as Margarito has fought almost all of his career at welterweight. However, although Margarito seems to be in great shape, he is sparing in a rubber suit and seems pretty damn skinny.
Freddie Roach and Manny Pacquiao have a history of negotiating these catch weights that leave their opponents drained. So goes the benefits of being the biggest or second biggest star in the sport.
I have to think that Roach knows that this weight will drain Margarito and make him an easy target for "The Bruce Lee" of boxing. Why else would they pick Margarito to fight, besides the aforementioned Top Rank issue, and the fact that Margarito will bring in the Mexican fans and PPV buys in droves?
Margarito
On the plus side for Margarito is that he is super durable with a great chin (at least until Sugar Shane Mosley cracked it). He also is a vicious body puncher and has great uppercuts from both sides, a punch that Manny is susceptible to be hit with.
On the negative side for Margarito, aside from a huge disadvantage in foot speed and hand speed, is that he has the habit of not returning his gloves to his face after he throws punches. This could prove deadly for him as Manny's punches come from crazy angles and loco levels.
He also tends to throw his hooks a little wide, so Pac-Man will be able to shoot shots up the middle. Look for Manny to shoot hooks between Margarito's gloves (ie shooting the punch straight and hooking at the last moment. A jab/hook fusion of sorts).
But the worst thing Margarito seems to have going for himself is that he seems to be sponsored by Affliction or Ed Hardy or one of those extremely gay t-shirt companies. There has seemed to be an "Affliction Shirt Curse" as everyone that wears one seems to lose. And I am not just talking about all the weesh guys that wear them out to nightclubs either. (see Hatton I think, Margarito, and some other fools that are escaping me at the moment).
Pacquiao
HBO's 24/7 is really playing up the storyline that Manny is "distracted" during training with his other commitments like being a Congressman in the Phillipines and helping other Politicians get re-elected like Democrat Harry Reid.
I am not sure if I buy it. Still, high marks for HBO on a great storyline as 24/7 remains the best show on television. (Although, the show lacks a little punch without Floyd Mayweather, Jr.)
Combos to watch for
Watch for Margarito to throw the jab, then step right, throw a straight right, left hook, then left jab, straight right combo. Margarito does this kind of throwing off the wrong foot thing and moving forward very well.
Watch for the Pacquiao's right jab to body, straight left at an upward angle and right hook combo. And watch him skip turn out of harm's way. This could be the knockout punch.
The Fight
I think Manny will chop up Margarito like some meat in some kaldereta and the fight will look something of a fusion between Pac-Man VS Ricky "The Hitman" Hatton and Pac-Man VS Miguel Cotto. With a stoppage coming somewhere around rounds 6-8.
It is in the realm of possibility that Margarito will put up a very inspired performance, damage Pac to the body, and simply be too rugged and big for Pacquiao. But I don't see that happening.
The thing is, Pacquiao's in-out, in-out combo, in-out combo routine is so tough to deal with. Margarito will catch Pac with some counters, but for every counter he does catch Manny with, Pacquiao's in-out attack will be doing far more damage.
Pac's speed and superior movement, and "turning the corner" on Margarito will be more than he can deal with. The template is there for Pacquiao. Cotto showed how to beat Margarito (minus the plaster fists) and so did Sugar Shane. If Mosley hadn't already cracked Margarito's jaw, it might be a different story.
I learned a long time ago, you don't bet against fighters that only come around once in your lifetime (ie Pacquiao, Mayweather, Sugar Ray Leonard, Marvelous Marvin Hagler, Tommy Hearns, Roberto Duran etc). Margarito is not one of those fighters.
However, I have been around the Fight Game long enough to know that anything can happen.
Anyone seen Buster Douglas lately?
Hell, someone might have plaster in their gloves, a person could parachute in the ring, one fighter could bite another's ear, water bottles could be drugged or entourages could start a full scale melee in the ring.
And that alone is enough to make me shell out the $54 dollars, or whatever the hell they are heisting, to watch.
Click Here for How to Pick up Strippers
Click Here 007 Lifestyle – Living Like James Bond!
The Rest is Up to You…
Michael Porfirio Mason
AKA The Peoples Champ
AKA GFK, Jr.
AKA The Sly, Slick and the Wicked
AKA The Voodoo Child
The Guide to Getting More out of Life
http://www.thegmanifesto.com
Manny Pacquiao Highlights

Antonio Margarito Highlights