The G Manifesto Tip—–Fight Night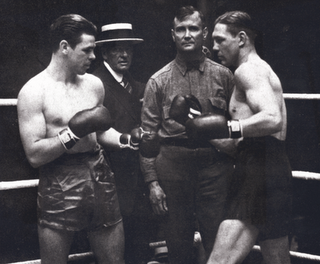 Boxing, the most brutal of sports is also the most important. Perhaps it's because it is an analogy for the Darwinian Survival of life itself. The highs in boxing are the highest and the lows of boxing the lowest. Cultural and ethnic pride is never as personified as it is in a boxing ring. The stakes are extremely high. It always has been and always will be. Hang out in San Juan when a great Puerto Rican fighter is fighting a great Mexican fighter, and you will know what I mean. . .It was no different in the 1920's when an Irish fighter was fighting an Italian fighter. I'm not trying to rationalize or explain this, I am just telling it how it is. It's no surprise that the most recognizable person (person, not just Athlete) of the last century, World Wide, was a boxer. In fact it wasn't just a boxer. It was "The Greatest" Muhammad Ali. Ali just so happens to be the only person I have ever got an autograph from in my life. I was 14. Shaking his hand (the same hand that knocked out so many great fighters) was definitely one of the most important moments in my life. There is little doubt the most recognizable person of this century will be a boxer also.
Boxing, of course happens to be my favorite sport (followed by horse racing, martial arts, poker, and if I have to say a team sport …soccer). However there is an Art to going to a Boxing Match. You need a certain skill set and knowledge to go to a Boxing match and to come out victorious on the night. You can't just go with the same Paper-thin game you use to go to an afternoon Barbecue and house party in the suburbs. You need to really prepare and use a variety of skills, not unlike Boxing itself, to get a Knockout. Read below and I will give you the "Keys to Victory"….G Manifesto Style……….
The best way to go to a fight is to roll in the Entourage (and I don't mean that show on HBO) of the Fighter in the Main Event. If you grew up in a city where fighting is big (i.e. Philly, DC, New Jersey, NYC, Chi-Town, Boston, Miami, Detroit, ATL, LA, The Wildcard Boxing Club in Hollywood etc) you will probably be in tune with Boxing and the colorful cast of characters in the Boxing world. If you hung around boxing gyms as a kid (as I did) then you probably know many of the fighters already. If that is the case, then rolling in the Entourage is the best way to go. There is no better way for a Juiced up entrance and first impression. If you are in a part of a different ethnic group than the rest of the Entourage it will have an even bigger impact. Don't ask me why, it's just the way it is. For example, I was rolling in Bernard Hopkins (one of the greatest middleweights of all time) Entourage, dressed impeccably, looking like a modern day Manolo. The night worked out pretty well……………
Check this out For the Best Deals on Boxing Tickets – all Upcoming Fights – (Click Here!)
The 2nd best way to roll is to go with Pro Boxers that are not fighting. Or other people heavily involved with the sport. For instance, if you are at a fight in New Jersey and you roll with Arturo Gatti (as I have) you are in for a bullet proof night. Rolling to a Vegas fight with De La Hoya never hurt anyone either. You really can beat going to a fight in Ghana with Ike "Bazooka" Quartey. Stepping into the joint with trainers like Angelo Dundee or cut men like Dr. Pacheco is another good way to roll. But let's say you have no Connects or inside moves…..
Your other option is to obtain the best seats possible. Again, this is easier with connections, either boxing or casino. Whatever it takes get the best seats, even if they cost $10,000 per seat (you want to roll in style, don't you?). Just suck it up and pay for them…..pay CASH, for style points.
Very important, you need to roll to Boxing Matches dressed the right way. By "the right way" I mean suited up. I know this sounds familiar. The difference between Boxing Matches and other events, is the more Flash and Pizzazz at a Boxing Match, the better. If you have ever wanted to wear a Fedora when you roll out, now is the time to do it. Or a Panama Hat. ("No two words in fashion say as much as 'Panama Hat'"—MPM) Or a white Gucci suit. No need to go easy on the jewels either. That immaculate cut VVS Diamond pinkie ring? Time to wear it. Essentially, you want to roll in Statement making attire. Chances are, in this crowd, no matter how hard you try, someone will be dressed doper than you. If I am at the fight, chances are, that person will be me……….
After you have made your entrance, dressed the right way, usually everything falls in place. It's like boxing itself. Most people will tell you the fight is won in the Gym. It's no different here. The preparation and entrance are the most important. Usually if done right, girls will be checking you out pretty heavy. For sure the Ring Card Girls will be checking you out. A Flash of a Big Bankroll and a wink goes along way with these girls. Don't pull your punches so to speak……
Network. One of the best parts of going to a boxing match is the interesting characters you meet. From Ex-Boxers, to Organized guys, to ruthless business men, to Hit Men, to Entertainment people, it really is a beautiful "Gumbo" of people. Take advantage of it. Maybe you need an out of town "Hitter" to take care of someone in your neighborhood. Or maybe you are trying to find a way to smuggle Rubies from Burma into the country. Or maybe you're trying to find a buyer for One Million Beans. Whatever it is there is a good chance you will be able to be steered in the right direction. Just don't forget to duck……
Tread Lightly. Always remember where you're at. News just in, Professional fighters, go to a lot of fights. That means a lot of people there can fight better than you. It really doesn't matter that last Friday you beat up some drunk guy at your local 7-11. Boxing matches are not the kind of events where you go around "stepping" to every girl. Find out who is with whom. It's not like going to a Real Estate Brokerage Company's Annual Christmas Party. Those Russian guys that look like weightlifters or Ex-KGB guys…..well they probably are Outfit Guys. The guys speaking Chechen in the Versace suits? Don't mess with them. Those guys fought off Hitler and Stalin, trust me, they are tougher than you. The Japanese guys in Sharkskin suits? The guys missing a couple of fingers? I don't care if their "Geisha girl" with bangs is giving you looks, look elsewhere. Just some words of wisdom. I almost forgot; don't forget to enjoy the fights……
Go for the Knockout. If you follow the above moves (the body attack), you should have plenty of prospects. If you have some girls on the ropes, don't be afraid to finish…..I know I never like to leave the outcome to the judges scorecards…"And the winner by Knockout, And STILL Undefeated….."..The Rest is Up to You…………..
Emails of the week:
In response to: The Blueprint of a Perfect Night in Las Vegas
"Like an orange aproned Home Depot employee, Mr Mason provides us with the finest tools to "unlock the boxes" in one of the greatest cities the US has to offer. I only wish I had this 3 weeks ago because maybe I would have actually opened one of the condoms that I brought. My next trip I am going to need an extra box with this blueprint. Thanks Mr. Mason, the whole free world is behind you!!!!!!!!!!!!"
In response to THE NINE HABITS OF HIGHLY EFFECTIVE G'S:
"I have to be honest, the topic originally didn't interest me. I thought "Oh well, I'll give it a shot." For you to take a topic that basically makes my head want to spin around and my gut extoll with pea soup and turn that topic into something that holds my interest and entertains me from beginning to end??? For you to do that, you've accomplished something."
Michael Porfirio Mason
AKA The Peoples Champ
AKA Mantequilla
AKA The Raggamuffin Man
AKA Hands of Stone
AKA The Hitman
AKA Sugar
AKA The Living Death
AKA Boom Boom
AKA Bonecrusher
AKA The Body Snatcher
AKA The Magic Man
AKA Bump City
AKA Six Heads
AKA The Count of Monte Fisto
AKA The Ghost with the Hammer in his Hands
The Guide to Getting More out of Life
http://www.thegmanifesto.com/
(I'll save "The Greatest" for Muhammad Ali)
Check this out For the Best Deals on Boxing Tickets – all Upcoming Fights – (Click Here!)