The Aftermath: The Golden Boy VS The Pretty Boy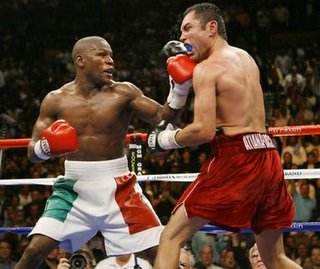 The Aftermath: The Golden Boy VS The Pretty Boy
The Golden Boy VS The Pretty Boy is in the books. Here are some thoughts:
The fight wasn't that close
Mayweather put on a masterful performance and completely out-boxed De La Hoya. The judges were obviously swayed by a crowd that seemed to be pro-De La Hoya outside of like two-hundred people. Every time De La threw a punch (most of which didn't land), every blond, fake Dior wearing, silicone enhanced Platinum Digger in the crowd went bonkers. As we know, Platinum Diggers can get their scream on. Mayweather's clean punches were greeted with silence. The judges shouldn't have been so swayed. The judge that had Oscar winning was more out of his mind than an early 90's pig-tailed Rave Girl on E-Tabs. I had it 8 rounds to four, Mayweather. The second half of the fight he had Oscar in deep water. In a 15 round fight, Mayweather would have drowned him. (I am not going to say "I told you so" but I knew Oscar has trouble with skillful fast boxers, read: Cinco de Mayweather: De La Hoya VS Mayweather)
Click here for Irish Thunder: The Hard Life and Times of Micky Ward
Click Here for 45 Fantastic Fights Of The Century
Give Mayweather some credit
Oscar had the ring he wanted, the weight he wanted and the gloves he wanted. Mayweather was a clear two weight classes smaller that Oscar. And he was still able to make pretty easy work of the future Hall of Famer. Oscar deserves mad credit as well as he has had a career of stepping into the ring with anyone. That's gangster.
Check this out For the Best Deals on Boxing Tickets – all Upcoming Fights – (Click Here!)
Eric B. & Rakim- Don't Sweat The Technique, G Manifesto Certified Track

Larry Merchant
Larry Merchant gave one of the most biased commentating sessions anyone has ever heard. He couldn't make a single comment that was Positive towards Mayweather or negative toward The Golden Boy. Oscar and Merchant also exchanged a weird look at the end of the fight that made me uncomfortable. At least congratulate Mayweather for winning the Richest Prizefight in Boxing History.
Click here for Irish Thunder: The Hard Life and Times of Micky Ward
Click Here for 45 Fantastic Fights Of The Century
Jim Lampley
Lampley is typically one of the classiest figures in Boxing. Which makes it seem so strange that he took the opportunity to take a parting shot at Mixed Martial Arts:
"Will boxing have to cede its place on the stage to other fighting forms, like mixed martial arts? Mixed martial arts is entertaining. The kind of skill level you saw in the ring tonight – there's nothing in mixed martial arts which is within light years of what Mayweather and De La Hoya are able to do with their hands."
If Lampley is worried about the "younger demographic" liking MMA more than Boxing, dissing MMA isn't the best way to go about getting new fans.
MMA VS Boxing
MMA and Boxing are two different sports, end of story. All the talk of Mayweather would get killed by whoever is the UFC champ in the Octagon is worthless. Tiger Woods would kill Michael Jordan on the Golf Course and vice versa, Allen Iverson would destroy Wayne Gretsky on the asphalt and vice versa, Smelly Kater would dismantle Jerek Deter surfing and vice versa, Smarty Jones would crush Amarillo Slim on the Race Track and vice versa. I would beat them all in a Swooping Models and Exotic Dancers Game Competition and I have guys in my crew that would beat all of them in a Street Fight with Gun Play. It is what it is.
Boxing and MMA can co-exist. There are people that just like watching fighting and combat sports. I am one of those. If I lived in Ancient Rome, I would be ringside at The Colosseum, dressed in the height of fashion, with two Italian girls feeding me grapes, gluping Vino, while watching Gladiators kill each other. True G's will always appreciate both sports.
Max Kellerman
Kellerman deserves some props for firing back at Lampley with this:
"I disagree with Jim. I think there are mixed martial artists who are operating on a very similar skill level in what they do to these fighters and that's one of the reasons that the sport's becoming very popular."
Kellerman, keep in mind, is the heir-apparent for the commentating crown and was smart to take advantage of Lampley's bad move. Kellerman wins by decision.
Side Note I:
Vargas VS Mayorga is in the works but HBO seems like they don't want the fight. Bad play. This could be the most action packed fight on the Docket.
Side Note II:
Gatti and Ward together again. This time Ward will be in Gatti's corner against Alfonso Gomez of Contender fame (the only reality show I can really stomach). Should be can't miss action between two Playboy/Boxers.
Eric B. & Rakim- Juice, G Manifesto Certified Track

Side Note III:
Boxing should take a page out of the UFC's book and start promoting Boxing Cards not just one big fight.
Side Note IV:
Hit a trifecta on the Kentucky Derby earlier in the day and rolled the winnings into Mayweather by Decision and rolled that into a late dinner with six twenty-one year old Southern California girls with my main Running Partner. Like Butch and Sundance. Outlaw G's. Not a bad way to start Summer….. The Rest is Up to You……..
Rock and Roll Gangster by Aalon, summertime G Manifesto Track

Michael Porfirio Mason
AKA The Peoples Champ
AKA The Golden Pretty Boy
The Guide to Getting More out of Life
http://www.thegmanifesto.com
(Want to see something in The G Manifesto? Send suggestions to thegmanifesto@yahoo.com)
Diego Corrales rest in peace