Guest Manifesto: Enter The Dragon pt. II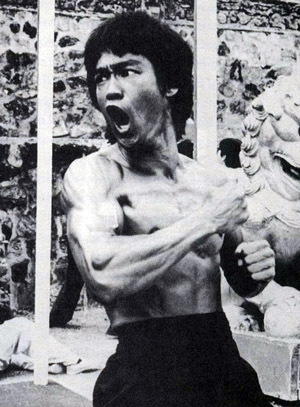 Guest Manifesto: Enter The Dragon pt. II
(Click Here for The G Manifesto's Entering The Dragon )
Click Here for more by the author of this Guest Manifesto Le Parvenue
There is no better training ground than the real world
Mens sana in corpore sano— a healthy mind in a healthy body– was once the watchword for fitness. But look at what has happened to the way we keep fit: we exercise in windowless basements, ingesting both recycled air and asinine music piped in at a steady feed. The gym is a place of isolation. Just look at a packed gym with all the people hiding in their private worlds of iPods and earphones.
"First things first, you need a place to work out. You don't want to join the corporate gym that has all new equipment, a juice bar and all yuppie clientele. Join the gym that has boxing equipment and is hot, smells terrible with a felon clientele…Always the top or the bottom, none of that middle of the road, suburban crap…a hall mark of The G Manifesto." – MPM
But there's a growing school of thought that, in terms of overall fitness, both physical and mental, the outside world is where we should be looking, not so much for inspiration but for things to actually do. Today, we don't really push or pull things in our lives any more, and the gym somehow evolved to reflect that. It just isn't fulfilling—there's no interaction.
And as the aesthetic ideal for men shifts ever further away from the super-groomed metrosexual to a manlier paradigm, ideal body shapes are being reconsidered.
"You don't need to lift heavy weights anymore, it's not the Eighties, and you are not trying to sack the quarterback anymore." -MPM
Clearly, for this different sort of workout, a different sort of motivation is required. Here is where boxing comes in. It is, after all, the most alpha of manly pursuits: going toe-to-toe in an old-fashioned fight. This is why scores of bankers, lawyers and industrialists (not to mention International Playboy's on the rise) turn to boxing to boost adrenalin and build muscle. At Gleason's Gym in Brooklyn, the 650 white-collar boxers make up more than half the clientele. "It's a very good way to relieve stress and aggravation," says Bruce Silverglade, Gleason's president.
"One of the most important aspects of Entering The Dragon. You need to spar. Get your rounds in. They will pay dividends."-MPM
On Wednesday nights, money manager John Oden leaves his tailored suit and Hermes tie in the locker room at the New York Athletic Club and climbs into the boxing ring in red Everlast gloves and white high-top sneakers. Much like the boxing greats he emulates, he feeds off the energy in the ring. Self-respect is also a factor. Not getting beaten up in front of your friends and colleagues is a much better motivator than wanting to look good; fighting for your pride is about the best goal you can have.
Relating to the Streets and Making a Comeback
While Oden was writing his book, "Life in the Ring: Lessons and Inspirations From the Sport of Boxing," he was right in the middle of the financial crisis. The Down Economy was taking its toll. In fact, it was during this period that his I-bank's investors pulled $44 billion from its funds. The Standard & Poor's 500 Index fell to 676.53, the lowest level since September 1996.
"It was an awful time," says Oden, sitting in a 36th- floor conference room overlooking Central Park. "Everyone I know suffered." But many of the 12 boxers he was writing about, including George Foreman, Bernard Hopkins and James J. Braddock, overcame tougher challenges, he says. "I am talking about growing up in ghettos, having no education or role models, going to prison," Oden says.
Like the business world, boxing requires "manic" preparation and 100 percent concentration. Before his fights, Oden learned about his opponents and worked out 10 times a week. "The ability to dig down and make a comeback in business is just the same as it is in boxing."
And there's a desirable side effect: incredible fitness. This is because boxing is massively aerobic, its constant motion and flexion punctuated by quick, controlled movements provinding an intense all-body workout. Plus, you acquire a skill, and you pick up a lot of confidence–not to mention respect.
"Even if people don't appreciate the sport, they appreciate and understand the discipline and preparation required to do the sport," Oden says. "Who wouldn't want someone who has these qualities, who prepares this way for something?"
Click Here for more by Le Parvenue
Bruce Lee – The Legend of The Dragon