Ricardo Mayorga VS Miguel Cotto Update and Prediction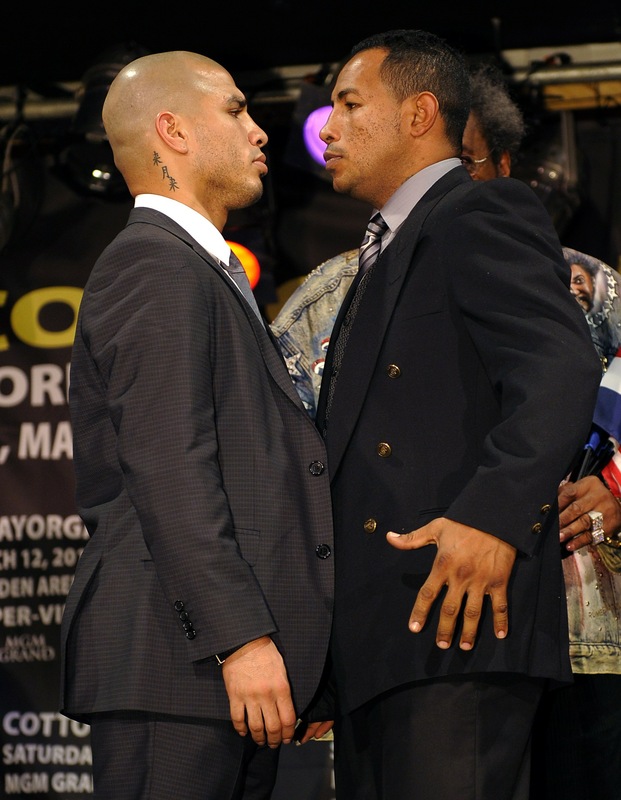 Ricardo Mayorga VS Miguel Cotto Update and Prediction
Ricardo Mayorga emerged from a white SUV in downtown Ocala on Tuesday with a lit cigarette hanging from his lips.
He yawned, took a long drag, then ambled across a parking lot toward the front doorway of Danny Santiago's local gym, Central Florida Boxing.
Just days away from a nationally televised world championship fight, Mayorga hardly looked the part of a polished pugilist.
But that changed quickly when he entered the ring to spar a few minutes later.
His demeanor changed, his brow darkened, and his focus honed in intently on Bobby Bryant, a 19-year-old Ocalan and the day's sparring partner.
It wasn't long before Mayorga — a heavy-handed brawler who isn't big on footwork — methodically walked the game Bryant into a corner and dropped him to the canvas with a left hook.
Tale of the Tape:
Miguel Cotto:
(35-2, 28 KO's)
Age: 30
Height: 5′ 7″
Orthodox Stance
Ricardo Mayorga:
(29-7-1, 23 KO's)
Age: 37
Height: 5′ 9″
Orthodox Stance
I may missing this fight live, but I think it has the potential to being the most entertaining fight of the year. I am mildly surprised more people aren't talking about it.
My logic tells me that Mayorga will start the fight fast and Cotto will be hanging on for life in the first three rounds while doing some damage of his own.
In the middle rounds Cotto's technique and skill will start taking over and seriously touch up Mayorga.
In the late middle rounds, Mayorga will make one last push, and hurt Cotto, and possibly drop him.
By round 10 Cotto should be punishing a bloodied Mayorga on the ropes and the ref should wave it off in a potential for fight of the year honors.
(Keep in mind, this could all happen in a somewhat collapsed time frame.)
The passive boxing fan and boxing writer vastly underestimate Mayorga's ability (they can only seem to remember him getting chopped up by Oscar De La Hoya. A fight where Mayorga was able to lay some heavy leather). And Cotto's tendency to be courting disaster at every turn should make this fight worth whatever they are peddling for it.
Mayorga is a 6 to 1 underdog in this one.
However, I have been hearing some rumblings from my sources that he might not be a bad bet (for some reasons I don't want to publicly mention). But you didn't hear that from me.
Click Here for Home Boxing Workouts
Click Here for Steve Iser's Commission Crusher
Also, the same night, Sergio "El Maravilla" Martinez will take on undefeated WBO light middleweight champion Sergiy "Razor" Dzinziruk of the Ukraine at the Foxwoods Resort Casino, Connecticut. I don't know much about Sergiy "Razor" Dzinziruk, except that he has a win over Joel Julio, so I expect Sergio Martinez to win.
Click Here for Zippo Black Ice Pocket Lighter
The Rest is Up to You…
Michael Porfirio Mason
AKA The Peoples Champ
AKA GFK, Jr.
AKA The Sly, Slick and the Wicked
AKA The Voodoo Child
The Guide to Getting More out of Life
http://www.thegmanifesto.com
WHAT DEFINES ME? RICARDO MAYORGA (Ep.1)

Miguel Cotto Highlights