Miguel Cotto defeats Ricardo Mayorga in 12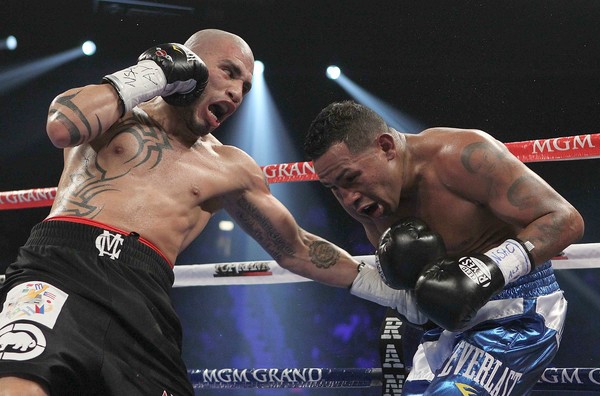 Miguel Cotto defeats Ricardo Mayorga in 12
It took just under 12 rounds of the fight but Miguel Cotto, 36-2 (29), achieved the knockout he promised to deliver by the end of the final heat, successfully defending his WBA junior middleweight belt and sending former welterweight champion Ricardo Mayorga, 29-8-2 (23), into retirement at the MGM Grand Garden Arena in Las Vegas on Saturday night.
Things started off with both Cotto and Mayorga attempting to land solid shots in order to establish who the bigger puncher was. As Cotto landed some clean bombs, Mayorga replied with strong shots of his own.
Mayorga was blasted with a left hook to the jaw and as a result was backed up into the ropes. Mayorga played off his condition by trying to goad Cotto into a power exchange against the ropes. Cotto took his time as he patiently glided into range and unleashed some strong shots.
The tone of the fight was set as Cotto established his range and connected with power jabs that eventually would swell up Mayorga's right eye. To Mayorga's credit, he was game and continued gain an advantage but his free-swinging style allowed Cotto to show off some improved defense and balance as he avoided most of the big shots.
Cotto looked great in this one, and Mayorga looked good as well. Not bad for a 10-1 underdog.
Sergio Martinez Stops Sergiy Dzinziruk in Eight, Defends Middleweight Championship

The 2010 "Fighter of the Year" didn't do anything to take himself out of the running for that honor in 2011.
Middleweight champion Sergio Martinez retained his title with an eighth-round stoppage of Sergiy Dzinziruk Saturday at the MGM Grand Theater at Foxwoods.
Martinez, 47-2-2 (26), dropped Dzinziruk five times in the fight, including three times in the eighth, before referee Arthur Mercante stopped it at 1:43.
"I wanted to nullify his boxing, nullify his punches, nullify his jab," Martinez said. "Little by little, I did that."
Dzinziruk, 37-1 (23), fought in a tight defensive shell but kept coming forward, while Martinez kept moving around the ring, letting his hands go more often. In the eighth, Martinez dropped Dzinziruk with right hooks three times, with Dzinziruk landing hard on his shoulder each time.
"I had to open up more and I did, but it didn't help," said Dzinziruk. "The knockdowns were not hard punches but they were perfect shots."
Next up for Miguel Cotto is a rematch with Antonio Margarito
That fight will be huge.
It's hard to figure out the best move for Sergio Martinez's next fight.
Click Here for Home Boxing Workouts
Click Here for Steve Iser's Commission Crusher
The Rest is Up to You…
Michael Porfirio Mason
AKA The Peoples Champ
AKA GFK, Jr.
AKA The Sly, Slick and the Wicked
AKA The Voodoo Child
The Guide to Getting More out of Life
http://www.thegmanifesto.com
Miguel Cotto: 100% Boricua(highlights)