Bernard Hopkins defeats Jean Pascal in Rematch to Become Oldest Champion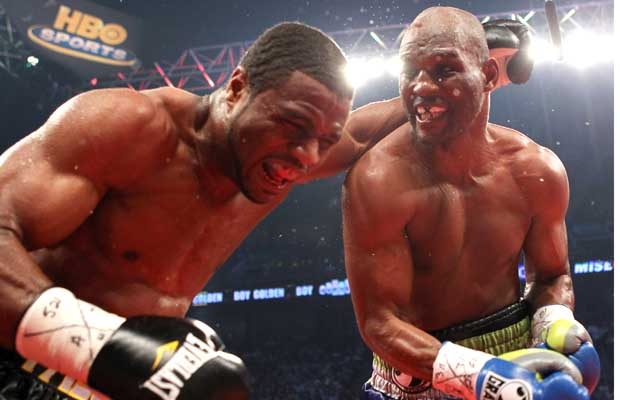 Bernard Hopkins defeats Jean Pascal in Rematch to Become Oldest Champion
Hopkins, who turned 46 in January, eclipsed the record set in 1994 by George Foreman, who knocked out Michael Moorer in the 10th round to win the heavyweight title at the age of 45 and 10 months.

The fighters started out slow, but their dislike for each other showed through as the fight wore on. Hopkins taunted Pascal repeatedly, sticking his tongue out at champion several times. He even came out before the seventh round and did about four or five pushups to prove he was not as tired as a 46-year-old man should be.
The tongue-wagging by Hopkins seemed to touch a nerve in Pascal, 28, who responded by charging like a bull at Hopkins, who was able to avoid most of the punches and appeared to enjoy doing it, as if he was teaching the kid a few lessons leanred in his 23-year career.

Judge Guido Cavaleri scored the fight 115-113, Danseco Reynante 116-112 and Anek Hongstongkam 115-114, all for Hopkins, who used his guile and years of experience to avoid some of Pascal's wild swings, and to tie up Pascal whenever he needed a breather.

It was textbook Hopkins, and the stats proved it. Hopkins landed 131-of-409 punches (32%), while Pascal connected on just 70-of-377 (19%).

"First I want to thank God for the victory," said Hopkins. "It all started with Smoky Wilson (his mentor in prison). I didn't feel like I was 46 tonight. I felt more like 36."
Another masterful performance by G Manifesto Hall of Fame Member, Bernard Hopkins.
I still remember when I used to roll in Hopkins' entourage back in the day. (Watch the old tapes, I was the young, Custom Suited Down cat rolling. Or just look for the only, non-African-American cat in the entourage).
It will be interesting to see if he can dismantle Lucien Bute.
Click Here for The G Manifesto's Free Gentleman's Club Report
Click Here 007 Lifestyle – Living Like James Bond!
The Rest is Up to You…
Michael Porfirio Mason
AKA The Peoples Champ
AKA GFK, Jr.
AKA The Sly, Slick and the Wicked
AKA The Voodoo Child
The Guide to Getting More out of Life
http://www.thegmanifesto.com
bernard hopkins highlights