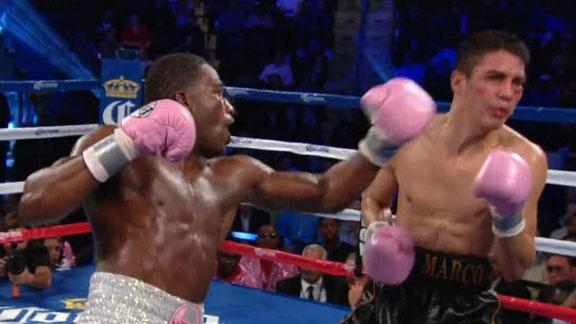 Adrien Broner: I Would Rather Be a Playboy
After dismantling Antonio DeMarco of Tijuana for The WBC lightweight World Championship, Larry Merchant asked Adrien Broner if he would rather be known as a "Boxer or a Fighter".
His response:
"If I had a choice, I would be a Playboy, Larry."
Quote of the year.
Adrien Broner: I Would Rather Be a Playboy

It is also kind of strange, since when I was a young cub, I always wanted to be a professional boxer. And now I am an International Playboy. It is funny how the world works.
Anyways, Adrien Broner is the real deal. Is he the next Pernell Whitaker? Not sure. Is he the next Floyd Mayweather Jr.? Not sure either.
However, I think he may punch harder than both those guys.
Adrien Broner Knockouts – Boxing Highlights

On another note, I have been so disconnected from boxing lately, that I didn't even know that Emanuel Steward passed away.
I had the pleasure of being introduced to Emanuel Steward on more than a few occasions. The first time when I was really young. I am not completely sure he ever remembered me, but he was the coolest cat you will ever meet.
G Manifesto Hall of Fame Member of the highest order.
Rest in Peace, boxing will never be the same.
On that same note of being disconnected, I finally watched Sergio Martinez VS Julio Cesar Chavez Jr.
Amazing fight.
Sergio Martinez is The Man. He fights at a level that is so damn elevated. Tons of heart too. Julio Cesar Chavez Jr. also proved himself to the haters. I have always said that people were way too hard on the kid. He can fight.
Julio Cesar Chavez Jr vs. Sergio Martinez

Click Here for Zippo Lighter Vintage, Sterling Silver, High Polish
The Rest is Up to You…
Michael Porfirio Mason
AKA The Peoples Champ
AKA GFK, Jr.
AKA The Sly, Slick and the Wicked
AKA The Voodoo Child
The Guide to Getting More out of Life
http://www.thegmanifesto.com