5th St. Gym, Miami Beach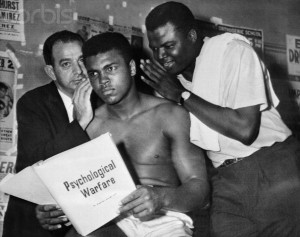 5th St. Gym, Miami Beach
Click Here for Muhammad Ali: Recipe for Life
Click Here for The South Beach War Report Part I: The Basics
I have mentioned before that The Legendary 5th Street Gym in Miami Beach has recently re-opened and I plan to be there soon. My father, Michael John Mason VI, used to take me there as a young pup and that was where I first met Muhammad Ali (among others). I can't wait to go back. It's already locked in stone on my schedule. Congratulations to Angelo Dundee, Dr. Ferdie Pacheco, Tom Tsatas, Matt Baiamonte and Dino Spencer for making it happen. This is a huge one in the win column and a true sign that The Apocalypse is Not coming. At least not yet anyway.
The History of 5th St. Gym, Miami Beach

Muhammed Ali:5th Street Gym

The Fight Years (documentary trailer) 5th Street Gym

Click Here for Muhammad Ali: Recipe for Life
Click Here for The South Beach War Report Part I: The Basics
Know your G history.
The Rest is Up to You…
Michael Porfirio Mason
AKA The Peoples Champ
AKA GFK, Jr.
AKA The Sly, Slick and the Wicked
AKA The Voodoo Child
The Guide to Getting More out of Life
http://www.thegmanifesto.com