Angelo Dundee: Rest in Peace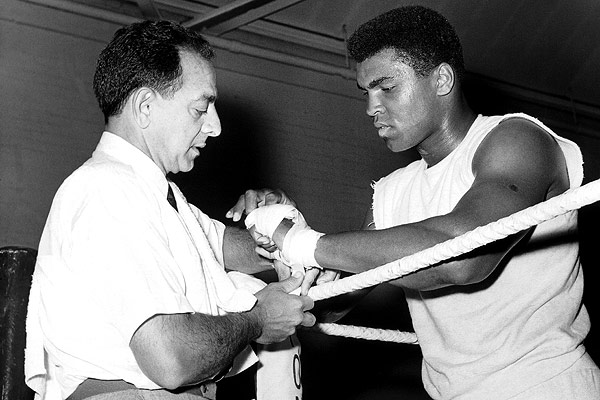 Angelo Dundee: Rest in Peace
Today is a sad day as G Manifesto Hall of Fame Member, Angelo Dundee passed away.
It is no secret that I am a big advocate of the 5th Street Gym in Miami Beach. And I have had the pleasure of meeting Angelo Dundee on a few occasions, the first time when I was a young cub with my Father.
Angelo was always super cool. The last time I was at the 5th Street Gym, Matt Biamonte told me Angelo wasn't feeling too well.
One of the things I most remember about Angelo Dundee was during the hype and build up of the Marvelous Marvin Hagler VS Sugar Ray Leonard fight when I was a kid. It was widely accepted that Hagler punched harder than Leonard.
But Dundee said, (I am paraphrasing here) "Leonard hits way harder than Hagler. Leornard has one punch knock out power. Hagler is more a fighter that needs to accumulate punches. He just isn't going to get that kind of "accumulation" on my guy!"
Dundee was a true tough guy and a master of mental warfare.
They just don't make them like Angelo any more.
Keep punching.
One of Angelo Dundee final interviews (one of the best interviews on youtube, period)

There was no way Angelo Dundee was going to miss Muhammad Ali's 70th birthday party.

The genial trainer got to see his old friend, and reminisce about good times. It was almost as if they were together in their prime again, and what a time that was.

Dundee died in his apartment in Tampa, Fla., Wednesday night at the age of 90, and with him a part of boxing died, too.

He was surrounded by his family, said his son, Jimmy, who said the visit with Ali in Louisville, Ky., meant everything to his Dad.

"It was the way he wanted to go," the son said. "He did everything he wanted to do."

Jimmy Dundee said his father was hospitalized for a blood clot last week and was briefly in a rehabilitation facility before returning to his apartment.

"He was coming along good yesterday and then he started to have breathing problems. My wife was with him at the time, thank God, and called and said he can't breathe. We all got over there. All the grandkids were there. He didn't want to go slowly," the son said.

Dundee was the brilliant motivator who worked the corner for Ali in his greatest fights, willed Sugar Ray Leonard to victory in his biggest bout, and coached hundreds of young men in the art of a left jab and an overhand right.

More than that, he was a figure of integrity in a sport that often lacked it.

"To me, he was the greatest ambassador for boxing, the greatest goodwill ambassador in a sport where there's so much animosity and enemies," said Bruce Trampler, the longtime matchmaker who first went to work for Dundee in 1971. "The guy didn't have an enemy in the world."

How could he, when his favorite line was, "It doesn't cost anything more to be nice."

Dundee was best known for being in Ali's corner for almost his entire career, urging him on in his first fight against Sonny Liston through the legendary fights with Joe Frazier and beyond. He was a cornerman, but he was much more, serving as a motivator for fighters not so great and for The Greatest.

Promoter Bob Arum said he had been planning to bring Dundee to Las Vegas for a Feb. 18 charity gala headlined by Ali.

"He was wonderful. He was the whole package," Arum said. "Angelo was the greatest motivator of all time. No matter how bad things were, Angelo always put a positive spin on them. That's what Ali loved so much about him."

Arum credited Dundee with persuading Ali to continue in his third fight against Joe Frazier when Frazier was coming on strong in the "Thrilla in Manilla." Without Dundee, Arum said, Ali may not have had the strength to come back and stop Frazier after the 14th round in what became an iconic fight.

Dundee also worked the corner for Leonard, famously shouting, "You're blowing it, son. You're blowing it" when Leonard fell behind in his 1981 fight with Tommy Hearns – a fight he would rally to win by knockout.

A master motivator and clever corner man, Dundee was regarded as one of the sport's great ambassadors. He was inducted into the International Boxing Hall of Fame in 1992 after a career that spanned six decades, training 15 world champions, including Leonard, George Foreman, Carmen Basilio and Jose Napoles.

"He had a ball. He lived his life and had a great time," Jimmy Dundee said. "He was still working with an amateur kid, a possible Olympic kid, down here. When he walked into a boxing room he still had the brain for it."

Dundee will always be linked to Ali as one of the most successful fighter-trainer relationships in boxing history, helping Ali become the first to win the heavyweight title three times. The pair would travel around the world for fights to such obscure places as Ali's October 1974 bout in Zaire against Foreman dubbed "The Rumble in the Jungle," and Ali's third fight against Frazier in the Philippines.
Muhammad Ali About Angelo Dundee, Shuffle and Money

Click Here for Roosh's Day Bang: How To Casually Pick Up Girls During The Day
Click Here for Zippo 20903 Gold Floral Flush Lighter Great American Made
The Rest is Up to You…
Michael Porfirio Mason
AKA The Peoples Champ
AKA GFK, Jr.
AKA The Sly, Slick and the Wicked
AKA The Voodoo Child
The Guide to Getting More out of Life
http://www.thegmanifesto.com
RIP Angelo Dundee 1921-2012