Guest Manifesto: HD on Bourdain and Kicks Food Knowledge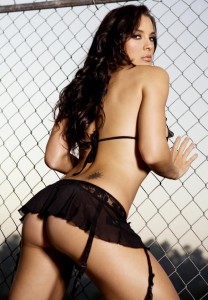 Guest Manifesto: HD on Bourdain and Kicks Food Knowledge
(Click Here to buy Kitchen Confidential: Adventures in the Culinary Underbelly by Anthony Bourdain)
HD had this to say about The G Manifesto post: Anthony Bourdain: Three Little Pigs Sandwich
"MPM-
Great call on Bourdain. He is a perfect representation of everything twisted & jaded with folks in the food world today. Also the perfect American dream story, drank too much and did a ton of dope in the 70's, 80's & 90's. Now has one of the top culinary entertainment career's in the world and a multimedia superstar. Not to mention he is one of the only true lyrical assassin. Tony has thrown stones at everyone from Alan Richman, Rocco, The Food Network, and most recently her majesty Alice Waters. Dude just isn't afraid to go toe to toe with anyone.
(Click Here to buy Kitchen Confidential: Adventures in the Culinary Underbelly by Anthony Bourdain)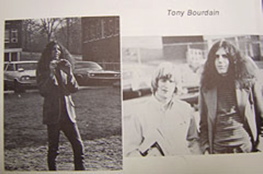 Now on to something I picked up while hunting in Madrid when I was a young cook. First thing you want to focus on is landing the Jamon Iberico Aka "pata negra". Iberico pigs from Spain that feed only on black acorns. The marbling on this stuff is out of control. At $150 per lb. in the down economy I know is tight, but it will be well worth it. Just at all cost stay away from the "Boars Head" shit.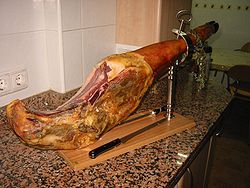 Cubed fresh braised Pork Belly should be your next move. I take my pork very serious, Duck is the only other protein that I have the same passion for. well talk about that another time. A nice organic fried egg is a great touch. On to the cheese, Keep it in Spain and lay on the aged manchego. When trying to land fly model chicks, stay away from the stinky cheese. This might be the most important touch of all. I've seen some closed deals drown because of the cheese. Drizzle with a nice Extra Virgin olive oil and a crunchy baguette.
Open up a Unico, Vega Sicilia – 1998, Ribera del Duero
Tempranillo, which comprises between 65% and 80% of "Unico" has a structure that seems to defy oxidation. Blended with a small portion of Cabernet, this Tempranillo gives intense black fruit and leather aromas. The texture is legendarily supple due to extensive oak aging. (10-25 years!)
White Wine with pork isn't an advisable move, especially with the cheese. If you don't get down with the reds. Grab something barrel fermented from the WC of the US.
Enjoy
-HD
Helping young playboys close through cuisine since 93′
Big Noyd – Shoot Em Up (Bang Bang) Part 1

Which of course samples The G Manifesto Certified Soul Classic:
INTRUDERS – COWBOYS TO GIRLS – 1968

Cowboys to Girls – The Intruders