Juan Manuel Marquez VS Juan Diaz 2: The Rematch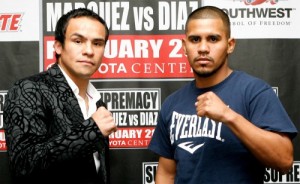 Juan Manuel Marquez VS Juan Diaz 2: The Rematch
Click Here for The G Manifesto's Free Gentleman's Club Report
Click Here 007 Lifestyle – Living Like James Bond!
Juan Manuel Marquez will face Juan Diaz on July 31st at Mandalay Bay in a rematch of The G Manifesto's Fight of The Year from 2009.
The first fight between the two Mexican Warriors, ended in a sensational come-from-behind KO win for Juan Manuel Marquez, stopping yet another 80's baby from moving into the ranks of superstardom.
"I am going to forget our first fight," said the 36-year-old, Juan Manuel Marquez. "It is like it never happened. I am going in as if this were our first meeting.
"A lot of people are asking me why Juan Diaz again? There are two reasons. Number one, he is a great fighter and deserves a rematch. Number two, the people deserve a great fight like this.
"Our fight was the fight of the year in 2009 and it may be the fight of the year again in 2010. You are all going to see two warriors who will give everything they have and leave everything in the ring.
"We Mexicans are always ready to die in the ring. I have already shown that age is not an issue with me. I prepare well and I am ready to show everyone what I can do."
Watch the full fight here:
Juan Manuel Marquez VS Juan Diaz 2 has all the makings of The Fight of The Year for 2010 as well, and besides the somewhat interesting Sugar Shane Mosley VS Sergio Mora, is the only real top notch fight on the docket for the rest of the year.
Watch for Juan Manuel Marquez to cook Juan Diaz again in another war.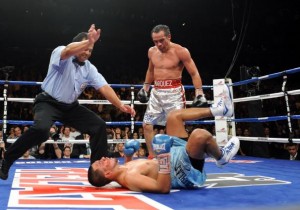 Don't sleep on it, like many did the first.
Click Here for The G Manifesto's Free Gentleman's Club Report
Click Here 007 Lifestyle – Living Like James Bond!
The Rest is Up to You…
Michael Porfirio Mason
AKA The Peoples Champ
AKA GFK, Jr.
AKA The Sly, Slick and the Wicked
AKA The Voodoo Child
The Guide to Getting More out of Life
http://www.thegmanifesto.com
Kid Frost- Pancho Villa
Bo