Fifth Night in Riga, Latvia: The End of Me?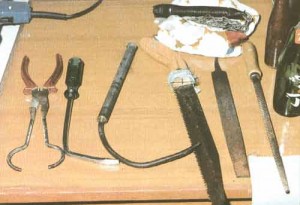 Fifth Night in Riga, Latvia: The End of Me?
Click Here for How to Pick up Strippers
Click Here 007 Lifestyle – Living Like James Bond!
"I assess the power of a will by how much resistance, pain, torture it endures and knows how to turn to its advantage." – Friedrich Nietzsche
It was a large bare warehouse room, dark and damp with concrete everywhere. It was difficult to say whether it was intended as a storage facility or a shipping and receiving area as it was dark and my vision was hazy as I started to come to.
There was a table in the centre under the alabasterine ceiling light with all types of power tools and other instruments of torture.
I sat, tied up, in an incongruous-looking throne-like chair in carved maple with a ripped blue velvet seat. My wrists were bound to the arms of the chair and my ankles to the legs of the chair. A rope was passed three times across my chest, under my armpits and through the back of the chair. I could barely move. The knots were tight with very little "give" in them.
I was a prisoner, completely defenseless.
Regardless, I still looked smooth in my Cookie Monster Blue Custom Suit with the interior so purple, you might have thought I was from Grape Street. And some gators from Barbados and I have never seen anyone else play those.
Four large Russians in leather jackets stood around me smoking jacks and drinking.
I struggled, chafing my swollen wrists and contemplating with myself how much energy I would waste by resisting.
One of the large Russians lit up a cigarette, picked up a mini sledge hammer and smashed my knee cap.
My whole body went into an excruciating spasm, as I screamed and my whole body knotted up and perspiration flowed down my face, dampening my Custom Suit.
I deeply groaned in pain, from a place in my body that I never knew existed, and all I could think of was having a cigarette.
Another of the large Russians, who seemed to be the leader, walked up to me and said, "Tell us where the money is, and we can put a stop to this unfortunate trouble you have gotten yourself into."
I have no idea what the cat is talking about as the last thing I remember is a 19 year old Russian girl giving me a shot of Black Balsam in a nightclub earlier in the night. At the current moment, I was really regretting coming to Riga, Latvia as I felt reminded of my fast life ventures.
He then says, "If you are not going to talk, the Game is over. This is the end."
The Russian then nods to the sledge hammer Russian, who picks up a Dewalt power drill and turns in on, drill bit whirling…
F*ck.
I have been having some trippy dreams on this trip.
Click Here for How to Pick up Strippers
Click Here 007 Lifestyle – Living Like James Bond!
The Rest is Up to You…
Michael Porfirio Mason
AKA The Peoples Champ
AKA The Seventh Letter
AKA Your favorite International Playboy's favorite International Playboy
The Guide to Getting More out of Life
http://www.thegmanifesto.com
AZ feat. Nas Mo Money Mo Murder