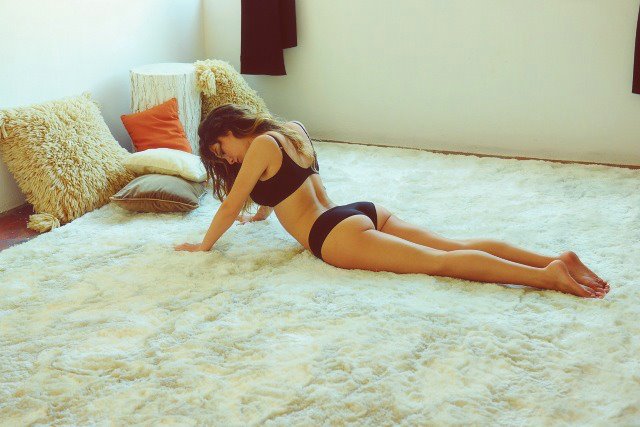 Yoga Game Part One: First Class
So I roll into my first Yoga class. I have no idea what to wear to this gig so I go with the black wife beater, Wild Card Boxing Club t-shirt, Everlast hoodie and Quik boardshorts. You know, the height of Fashion for Yoga G Set. Or at least that is what I think it should be.
As I step into the arena, I mean, the waiting area, I see a fly girl that is as hot as the bullet that went into Abe Lincoln. So what do I do?
I go and sit next to her and say, "hello".
She smiles and says "hello" back.
The atmosphere is very relaxed and subdued, but I get a good back and forth dialog going on with her. She can tell I am The G.
She is down. I will swoop her after class on the real.
Class starts.
I grab a spot in the back, just like when I was in school, because I have no idea what the f*ck is going on.
This was actually a good move because I can spock all the fly girls in the class. And it is basically all girls.
Minimal guys, only two others. The competition is non-existent. One guy is probably suspect and the other is softer than a soft serve cone in Venice Beach in August.
Street-hardened, well-traveled, International Playboys that survived The Extacsy Wonder Gang Wars, like your humble author, these guys are not.
We bust out the class, and I did pretty well actually. The fly girl teacher asks me, "Was that really your first class?"
When it ends, I feel great. I almost want to yell, "Let's all get some cocktails and have a smoke!", but I decide that it would be inappropriate in the Yoga Dojo.
Then the fly girl that I was talking to at the beginning of the class just gets up, rolls up her mat and splits.
What an airball.
Maybe I should have worn a Custom Suit to this gig and sparked up a smoke.
But I really think there is something to this Yoga stuff.
Click Here for Roosh's Day Bang: How To Casually Pick Up Girls During The Day
Click Here for The G Manifesto's Free Gentleman's Club Report
The Rest is Up to You…
Michael Porfirio Mason
AKA The Peoples Champ
AKA GFK, Jr.
AKA The Sly, Slick and the Wicked
AKA The Voodoo Child
The Guide to Getting More out of Life
http://www.thegmanifesto.com
midnight star – wet my whistle