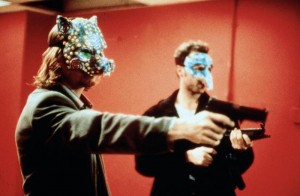 Killing Zoe Full Movie In Spanish
I posted this for a couple of reasons.
One, Killing Zoe is a pretty dope movie. It is one of the few movies out there that depicts the often overlooked "Heroin Heist Man/ Grunge Heist Man" era of the early 1990's.
I remember this era well from back when I was a young cub. I vividly recall going over to these older G's crib in my hood and seeing them shooting up "post heist" (I often bought weed from them and rolled by their crib to see what was going down). They were all high as a kite and there was some "dye-pack ruined" dollar bills in the bath tub. Pretty ugly scene.
But that's neither heron spikes or Mike and Ike's.
The other thing I like about the flick is that it covers the typical drug fueled night with locals that everyone has experienced multiple times while traveling.
Also, there is a great lesson to be learned in the movie: getting the loot it is one part, getting away with it is another, exchanging it for dough is the most important.
Lastly, this version of Killing Zoe is in Spanish. So its good for language practice. Additionally, it is great to sit back and watch it with a beautiful Colombian Girl in your palatial apartment on the northside of Bogotá, Colombia while sipping on Malbec and taking a break from the frenetic nightlife of Zona Rosa and Parque 93.
Not like I would know anything about that though.
Ha. Life is good.
In Boxing News, Lucas Matthysse defeats DeMarcus "Chop Chop" Corley.
In one of the most dubious refereeing jobs in recent memory, former world champion DeMarcus "Chop Chop" Corley was allowed to be dropped NINE times in dropping about to Lucas Matthysse via eighth round stoppage in Mendoza, Argentina.
Matthyse softened Corley up over the first four round before dropping Cor twice in round five, once in round six, three times in round seven and two times in round eight.
Most of the shots were hooks to the body and ironically the last knockdown looked like Matthysse clearly missed Corley but Corley slipped and the referee waved the bout off.
Matthysse, 139 1/2 lbs was fighting for the first time since his first professional loss which came last November to Zab Judah is now 28-1 with twenty-six knockouts. Corley, 138 3/4 lbs of Washington, DC is now 37-16-1.
Remember, Lucas Matthysse lost recently in a psedo-dubious decision to Zab "Super" Judah recently.
The Rest is Up to You…
Michael Porfirio Mason
AKA The Peoples Champ
AKA GFK, Jr.
AKA The Sly, Slick and the Wicked
AKA The Voodoo Child
The Guide to Getting More out of Life
http://www.thegmanifesto.com
Don Omar – Danza Kuduro ft. Lucenzo