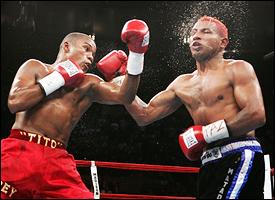 Ricardo Mayorga MMA Update and Classic Fight With Felix Trinidad
If you like The G Manifesto, fill out this quick G Manifesto Survey
Here is a little update on hard punching, cigarette smoking, all around playboy and G Manifesto Hall of Fame Member Ricardo Mayorga:
Former two-division titlist Ricardo Mayorga, idle since Shane Mosley stopped him in the 12th round in September 2008, resurfaces May 15 when he moves to mixed martial arts. He faces Din Thomas (trained by 1976 U.S. Olympic gold medalist Howard Davis Jr.) in a three-round bout at 160 pounds in the main event of a pay-per-view card in Fayetteville, N.C. Mayorga's boxing trash talk has come with him to MMA. "I conquered the world in the boxing ring all the while I was puffing cigarettes and drinking beer, " Mayorga said. "I won three world title belts and I stood toe-to-toe with so many legends, beating some of them. Vernon Forrest, God rest his soul, was a great boxer yet I beat him back twice. I cannot be denied as I am a force of nature. Now I will shock the MMA fans and I know so many of my fans from boxing will follow me as I expand my repertoire. They can't deny me in MMA and I will destroy Din Thomas. I am going to smash him. To me, a fight is a fight in a ring, in a cage or on the street. Fighting is my middle name."
I guess this fight didn't happen, but still great quotes from Mayorga as per usual.
Here is what he is saying now:
"I can beat the Filipino. If his preference is to fight me, I'm ready. Pacquiao gave and opportunity to to Fight Margarito, and he could do the same for me," Mayorga commented during a media worked held yesterday at the 5th St. Gym in Miami, Florida.
And:
"Cotto, Pacquiao, any of them will do. Everybody knows Cotto is from Puerto Rico. Cotto is nobody for me. I'm not afraid of anyone. I'll go to Puerto Rico and fight Cotto there."
I would pay to see either fight although the Cotto fight would actually make some sense and is guaranteed to be entertaining.
Side Note: The Legendary 5th Street Gym in Miami Beach has recently re-opened and I plan to be there soon. My father, Michael John Mason VI, used to take me there as a young pup and that was where I first met Muhammad Ali (among others). I can't wait to go back. It's already locked in stone on my schedule. Congratulations to Angelo Dundee, Ferdie Pacheco, Tom Tsatas, Matt Baiamonte and Dino Spencer for making it happen. This is a huge one in the win column and a true sign that The Apocalypse is Not coming. At least not yet anyway.
If you have never seen it (or even if you have), watch the Modern Day Classic of Ricardo Mayorga VS Felix Trinidad:
Click Here to Make Money with The Shoemoney System
Mayorga vs Trinidad 1

Mayorga vs Trinidad 2

Mayorga vs Trinidad 3

Mayorga vs Trinidad 4

Click Here for How to Pick up Strippers
Click Here 007 Lifestyle – Living Like James Bond!
The Rest is Up to You…
Michael Porfirio Mason
AKA The Peoples Champ
AKA GFK, Jr.
AKA The Sly, Slick and the Wicked
AKA The Voodoo Child
The Guide to Getting More out of Life
http://www.thegmanifesto.com