Bra Boys Movie will Premiere in the US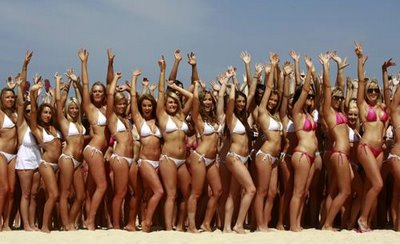 Bra Boys Movie will Premiere in the US
The documentary, Bra Boys, about the notorious Maroubra Beach locals (Sydney) will premiere in LA on April 7th and it is being released in select US Theaters on 11th April, 2008 (I am guessing in coastal communities).
I haven't yet seen the film, but I heard a lot of rumblings about it last year when I was lamping in Australia (How to Swoop Girls and Influence People (Australia Style).
Bra Boys centers around the Abberton brothers; pro surfers, Sunny Abberton, Jai Abberton, and Koby Abberton and the hardships growing up in Maroubra and Brotherhood. The movie is narrated by Russell Crowe who also has plans to turn the story into a feature movie which will most likely be terrible (see movie version of DogTown and Z-boys- The Lords of Dogtown). Actors can't play Surfers and Skaters, and Surfers and Skaters can't act.
Maroubra's "Bra Boys" are described by police and local media as a gang and have been involved in various scrapes with the law. Back in 2002 the crew was involved in a brawl with off-duty police officers.
The Bra Boys were also involved in the peace talks with gangs following the 2005 Cronulla Riots.
In May 2005, Jai Abberton was acquitted of a 2003 murder of standover man Tony Hines, whose body was found dumped off a cliff. His brother Koby was handed a suspended nine-month jail sentence after being found guilty of perverting the course of justice in the same matter. Hence the whole, "My Brother's Keeper" thing.
The Bra Boys have also taken over extremely hollow, extremely shallow Cape Solander, Kurnell and renamed it "Ours".
Typically, I have been over surf flicks, (one reason being the quality of punk music in this day and age sucks, let's face it, the bands today are no Minor Threat) but Bra Boys has my interest. One, I dig Australia, two, I have strong affinity for other kids who grew up in tough urban environments, and three, The Bra Boys are going through a real life rags to riches story.
Rags to Riches is the heart and soul of The G Manifesto after all.
FREE screening of Bra Boys on Saturday, April 12th at 8:15 PM in Greenwich
Village
Bra Boys Movie Trailer

The Rest is Up to You…
Michael Porfirio Mason
AKA The Peoples Champ
The Guide to Getting More out of Life
http://www.thegmanifesto.com
Real Punk, Minor Threat

Bra Boys surf Ours

Bra Boys on Brotherhood

Bra Boys on Localism

Bra Boys on Escapism