Ed Hardy, Christian Audigier and Michael Jackson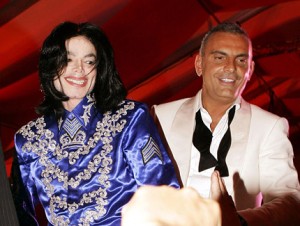 Ed Hardy, Christian Audigier and Michael Jackson
Click Here for Hot Chicks with Douchebags
Last week was Cigarette week at The G Manifesto. This week is very quickly turning into Douchebag Week, with Ed Hardy Blacklisted by Vancouver Nightclubs and Tucker Max: I Hope They Serve Beer In Hell Trailer*.
Now it looks like, right before he died, Michael Jackson was about to come out with a wack clothing line with Christian Audigier.
Fuck Ed Hardy by Dirt Nasty, Andy Milonakis, and Rich Hill
No wonder Michael Jackson kicked the bucket: he had to look at all those epileptic seizure inducing T-shirt designs. Probably gave him the blues so hard you would think that he was Crippin. That is, until he turned Cookie Monster Blue like the interior of my custom suits.
Drugs don't kill people.
T-shirts with Glitter do.
Thanks to T over at The Rawness for the tip.
*I don't necessarily think that Tucker Max is a "douchebag". I mean to my limited knowledge, he doesn't wear Ed Hardy. So he gets a pass.
Click Here for Hot Chicks with Douchebags
The Rest is Up to You…
Michael Porfirio Mason
AKA The Peoples Champ
AKA GFK, Jr.
AKA The Sly, Slick and the Wicked
AKA The Voodoo Child
The Guide to Getting More out of Life
http://www.thegmanifesto.com
To end this on a good note an little SE SD banger:
Jayo Felony – Nitty Gritty

And a banging Latina: