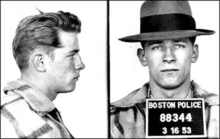 Irish Gangster Whitey Bulger Captured in Santa Monica
Authorities at a multiagency news conference in Boston praised their own persistence and tenacity in the capture of legendary crime boss James "Whitey" Bulger, and credited public service announcements for leading them to the fugitive in Santa Monica.
The announcements were launched Monday and Tuesday in 14 markets across the country where Bulger and his companion, Catherine Elizabeth Greig, 60, had been spotted or had past ties.
Bulger, 81, who has been on the run for more than 15 years, fled Boston in late 1994 as federal agents were about to arrest him in connection with at least 19 killings, racketeering and other crimes that spanned the early 1970s to the mid-1980s. He headed an organized crime group that allegedly controlled extortion, drug deals and other illegal activities in the Boston area.
Whitey should have gone to Santa Monica, Mexico in the northern part of Mexico City. Or Santa Monica, Surigao del Norte in the Philippines.
Not Santa Monica, California.
Boston Mobster James 'Whitey' Bulger Arrested in California

The Rest is Up to You…
Michael Porfirio Mason
AKA The Peoples Champ
AKA GFK, Jr.
AKA The Sly, Slick and the Wicked
AKA The Voodoo Child
The Guide to Getting More out of Life
http://www.thegmanifesto.com
Southie reacts to Whitey Bulger capture