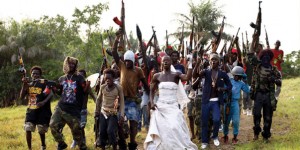 Dope Movie: Johnny Mad Dog
Click Here for Johnny Mad Dog: A Novel
If you are anything like me, you have a tough time watching crap American movies. I can't even remember the last one I sat down and watched.
Recently, I saw Johnny Mad Dog. Its pretty dope and it's filmed in that manner that makes it look like a documentary although it isn't. Without ruining it, it is about Child Soldiers in Liberia. These kids are heavy and make the droogs in A Clockwork Orange look like a bunch of accountants on a work retreat.
Johnny Mad Dog is the leader of a crew that terrorizes, plunders and pillages towns all the while doing drugs, drinking booze and dressing in crazy gear (which I am guessing is the height of fashion for the Child Soldier set).
Peep it. It is the best movie I have seen all year.
Click Here for Johnny Mad Dog: A Novel
The Rest is Up to You…
Michael Porfirio Mason
AKA The Peoples Champ
AKA GFK, Jr.
AKA The Sly, Slick and the Wicked
AKA The Voodoo Child
The Guide to Getting More out of Life
http://www.thegmanifesto.com
Johnny Mad Dog Trailer