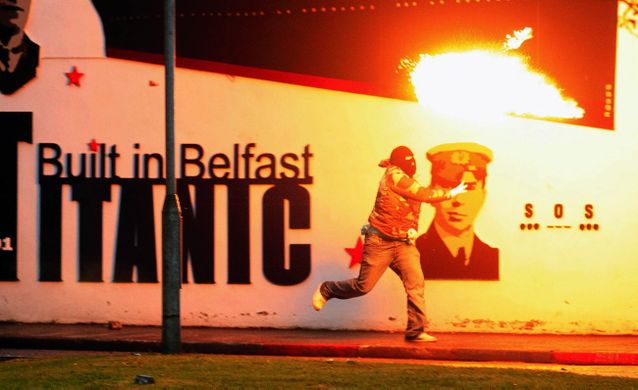 East Belfast Riots
Since I happen to be in Belfast visiting family, and since this is probably not getting to much coverage in America, check it:
East Belfast riots 'a wake-up call', says Baggott
Two nights of riot mayhem this week are a "wake-up call" for Northern Ireland, PSNI chief constable Matt Baggott has warned.
Speaking as First Minister Peter Robinson and deputy First Minister Martin McGuinness pledged to work to try to prevent a repeat of the violence in east Belfast, the police chief spoke of his sadness that the province was taking "two steps forward and one step back".
It is understood Mr Robinson yesterday met UVF leaders as part of efforts to maintain calm. After briefing the Policing Board on details of the flashpoint flare-up, Mr Baggott also claimed dialogue is key to avoiding a summer of trouble and tension.
He said: "We should recognise that in some places the peace is fragile and it's a wake-up call to us all to redouble our efforts to make Northern Ireland the safe, prosperous place everybody wants."
With a senior civil servant tasked with investigating the problems in east Belfast, First Minister Peter Robinson said the focus was on avoiding a repeat of the chaos which damaged the reputation of the province in the week of golfer Rory McIlroy's US Open triumph.
"Where there are genuine concerns, we want to help," he said. "We represent and care about this whole community and we want to hear what it has to say."
The truth about Belfast's riots
Many media commentators, some London-based, some local, who spend little time on the ground in places like the Lower Newtownards Road or Short Strand, bought into the line that this latest conflagration was the result of spontaneous working class loyalist anger.
They argued that, because loyalist paramilitaries had no representation in the Stormont parliament or that because socioeconomic or educational attainment was low in poor Protestant areas around eastern Belfast, these communities suddenly erupted in anger.
In doing so, the commentators swallowed a fairy tale as faux as the make-believe pirate battles on Sunday.
Returning from a short break in the west of Ireland, I bumped into a resident of the Short Strand on the Dublin to Belfast train last Friday morning. She is a woman I have known for more than 30 years, who has no love for republican paramilitaries or wants, in any way, to see a return to violence.
Over the two and a half hour journey north, she explained in grim detail how her home in one end of the Short Strand district was attacked while her daughter's house was subjected, simultaneously, to a similar bombardment in another part of the area.
She explained that the sortie began with military precision around 9pm on Monday, that all of those who attacked their homes were wearing surgical gloves, masks and combat uniforms, that they arrived with wheelie bins stuffed with bricks, bottles and other missiles, and that the entire attack appeared to be well organised.
Peace to Ireland.
The Rest is Up to You…
Michael Porfirio Mason
AKA The Peoples Champ
AKA GFK, Jr.
AKA The Sly, Slick and the Wicked
AKA The Voodoo Child
The Guide to Getting More out of Life
http://www.thegmanifesto.com
Belfast riots