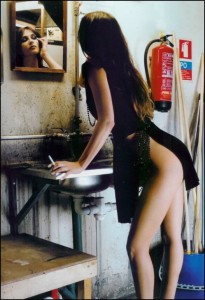 The Salsa Swoop Move
Click Here 007 Lifestyle – Living Like James Bond!
(Here is my Facebook, New Twitter and The G Manifesto Facebook Page)
Online Dance School (Salsa, Cha Cha, Merengue & Bachata). Learn Dance!
Here is a new move from the most recent Chambers of The G Manifesto:
First things first, take some lessons and get your Salsa Game up to Par. The beauty of The Salsa Swoop Move is you don't have to get great at Salsa, you just need to be better than a typical gringo, which isn't saying much.
Now it doesn't matter if in is Cali, Cartagena, Barcelona, Miami Beach, Medellin, Republica Dominicana , San Juan or Bayamon, just roll in the salsa spot like the Don Juan behind the Don.
Approach a fly girl or group of fly girls like you normally would rolling Dolo, like Tony without Manolo.
Being an American, sooner or later, the conversation will come around and she will ask you "What kind of music do you like?"
Always respond, "Música Latina, Salsa".
She will then inevitably ask you if you dance Salsa.
Say, "No, I never have, but I think I can pick it up pretty quick, can you show me?"
She will always say "Of course".
The trap is now set.
Once you start dancing, you "pick it up pretty quick" and start busting some ill Salsa. Any mistakes only give more authenticity to the move of just "learning it on the spot".
Once she sees your Salsa Game, she will be amazed, her eyes will dilate, and falling for you, she will have an "A-ha" moment of sorts.
From here, it's your Game to lose, Oh my Brothers.
Click Here for A Dead Bat in Paraguay
Online Dance School (Salsa, Cha Cha, Merengue & Bachata). Learn Dance!
The Rest is Up to You…
Michael Porfirio Mason
AKA The Peoples Champ
AKA GFK, Jr.
AKA The Sly, Slick and the Wicked
AKA The Voodoo Child
The Guide to Getting More out of Life
http://www.thegmanifesto.com
EL GUAYABERO DE CUBA : Amarren al perro