Hipsters VS Douchebags: A Modern Day Mods VS Rockers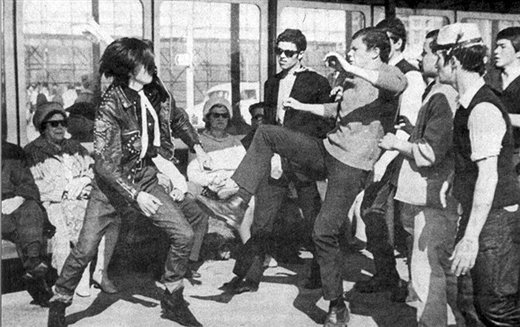 Hipsters VS Douchebags: A Modern Day Mods VS Rockers
(Here is my Facebook and New Twitter)
Click Here for Hot Chicks with Douchebags
Anyone who has been doing battle in Nightworld over the last decade has noticed there are two main groups are out there: Hipsters and Douchebags.
I try not to give these guys much thought, but being an active participant in Nightworld, I have these guys constantly messing up my visuals while I am swooping fly girls.
These fleeting thoughts usually contain an Acetylene Torch, Duct-tape, and bolt cutters.
I just cannot comprehend how the American male has slid so far. Think about it. Guys actually wear glitter on their shirts (Douchebags). And Guys actually wear super tight jeans (Hipsters).
If you are keeping score, it is certainly a sign that The Apocalypse is coming.
Anyways, I finally figured out (kind of) what it is all about.
Hipsters and Douchebags are a Modern Day Mods and Rockers. (Keep in mind, the Mods and Rockers were way doper than the Hipsters and Douchebags)
Back in the day, "The Rockers considered Mods to be weedy, effeminate snobs, and Mods saw Rockers as out of touch, oafish and grubby." Source
The great part about the Mods VS Rockers was that the constantly brawled each other. Hipsters and Douchebags don't really seem to cross paths.
Somehow we need to get Hipsters and Douchebags going head to head (so to speak) and eliminate each other.
Come to think of it, Ill get to work on that.
(Once it breaks out, the smart money is on The Douchebags.)
Click Here for Hot Chicks with Douchebags
In The Beatles' 1964 film A Hard Day's Night, a reporter asks Ringo Starr, "Are you a mod or a rocker?", to which he replies, "No, I'm a mocker."
The Rest is Up to You…
Michael Porfirio Mason
AKA The Peoples Champ
AKA GFK, Jr.
AKA The Sly, Slick and the Wicked
AKA The Voodoo Child
The Guide to Getting More out of Life
http://www.thegmanifesto.com
Since I have no idea what Hipsters and Douchebags listen to:
Rocker Music: Gene Vincent – Rip It Up 1958

Mod Music: Small Faces, Itchycoo Park

To end this on a positive note: