Sol Price, G Manifesto Hall of Fame, Rest in Peace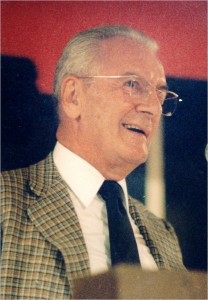 Sol Price, G Manifesto Hall of Fame, Rest in Peace
Click Here for Mack Tactics: World Famous Dating Program For Men!
(Here is my Facebook, New Twitter and The G Manifesto Facebook Page)
Sol Price, a retail magnate who three decades ago altered both the American landscape and the American way of shopping by founding Price Club, the first nationwide members-only discount warehouse, died on Monday at his home in La Jolla, Calif. He was 93.

With Robert, Mr. Price started the first Price Club in 1976 in a cavernous former airplane parts factory in an unfashionable part of San Diego. The business, which offered consumer goods as varied as tires, books and household appliances at extremely low prices, proved to be the leading edge in the multibillion-dollar influx of discount big-box stores, among them Costco, BJ's Wholesale Club and Sam's Club.
I am a couple of days late on this story, as I was busy swooping fly girls in the Caribe, getting mad shoulder rubs, while puffing on Marlboro Gold's.
I was deeply saddened by the news of Mr. Price's passing, as I have some ties to the family. My heart goes out to them.
A True G, top tier biz cat, Democratic powerhouse and always gave back. And did it with Style. People's Champ if the ever was one.
The main lesson from him: Keep overhead to an absolute minimum.
You know your G when Sam Walton bites your steez:
One of the chief beneficiaries of Mr. Price's legacy, Sam Walton, acknowledged the debt in his 1992 memoir, "Made in America" (Doubleday, 1992; with John Huey). Mr. Walton, the founder of Wal-Mart and Sam's Club, wrote, "I guess I've stolen — I actually prefer the word 'borrowed' — as many ideas from Sol Price as from anybody else in the business."
Rest in Peace.
Click Here 007 Lifestyle – Living Like James Bond!
The Rest is Up to You…
Michael Porfirio Mason
AKA The Peoples Champ
AKA GFK, Jr.
AKA The Sly, Slick and the Wicked
AKA The Voodoo Child
The Guide to Getting More out of Life
http://www.thegmanifesto.com
Frank Sinatra – Fly me to the moon