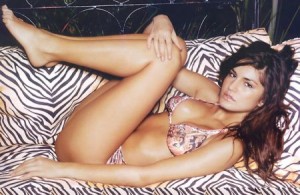 Entropy on Models, models and "models"
Click Here 007 Lifestyle – Living Like James Bond!
(Here is my Facebook, New Twitter and The G Manifesto Fan Page)
Click Here for Fool's Paradise: Players, Poseurs, and the Culture of Excess in South Beach by Steven Gaines
Entropy beat me to the punch (so to speak) on this post. My comments in Bold:
"models": This is 90% of the "models" you run into in bars and clubs. The girl who says, "Oh, I used to model some," or "I do a little modeling on the side." What this translates into: she's a prettiest one of her friends, all of which said she should try modeling.
Unfortunately, this is where most of the "I hooked up with a model last summer" or "She's so hot, she used to model" stories come from.
These girls are almost more common in nightclubs than wack guys in glittery gay Ed Hardy shirts in the "Sand States". Want to go to the easiest place in America to swoop these girls? Go to Las Vegas young G.
models: Lower-case 'm' models actually went a step further. They sent their portfolios out, they actually strutted in a couple shows, maybe their picture was actually used in a local magazine or on some club flyer or something. Still, these girls were never full-time professional. Regardless, this is the clear cut off for "this girl is legit hot." Don't care how small-time the show is, but you don't walk a runway if you're less than an 8.5.
Some of these girls end up in the Maxim "hometown honeys" section or Playboy's College issue or becoming cheerleaders for sports-teams.
Some of these girls also end up in P0rn. Or high class escorting on the side.
Models: Models with a capital 'M'. These are your legit, real-life 10's. The women you see in Vogue, AX ads, Abercrombie posters. These are legit full-time models, bringing in solid money, traveling the world circuit between NYC, Paris, Milan and Asia.
NYC is the best place to swoop these girls in America. South Beach in the wintertime. French Riviera in summertime.
Continue Reading Entropy's post on his opinions on how to swoop Models, models and "models".
The G Manifesto's framework for swooping Models coming soon.
Click Here for Fool's Paradise: Players, Poseurs, and the Culture of Excess in South Beach by Steven Gaines
The Rest is Up to You…
Michael Porfirio Mason
AKA The Peoples Champ
AKA GFK, Jr.
AKA The Sly, Slick and the Wicked
AKA The Voodoo Child
The Guide to Getting More out of Life
http://www.thegmanifesto.com
The Rascals – It's A beautiful morning