The Smugglers Blues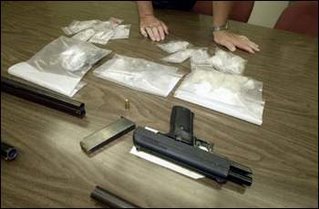 The Smugglers Blues
Click Here for Drug Smugglers on Drug Smuggling: Lessons from the Inside
"Pyrex Stirs turned into Cavalli furs
The full length cat, when I wave, the kitty purs
All my niggaz caped up, selling grey and beige dust
Had that money right or end up in the trunk taped up
We don't chase a duck, we only raise the bucks
Peel money rolls until our thumbs get the papercuts
Wanna know the time? Better clock us
Niggaz bite the style from the shoes to the watches
We cloud hoppers, tailored suits like we mobsters
Break down keys into dimes and sell 'em like gobstoppers"
(Sick lyrics from "Me too" by Pusha T and Malice from Clipse featuring Pharrell, G Manifesto Certified Track of the Week)
Click Here for Drug Smugglers on Drug Smuggling: Lessons from the Inside
People are constantly saying to me, "How do you have the CASH to cruise around the world, stay out all night, date models and live the Charmed life of an International Playboy? Great question. Everyone seems to be strapped for cash these days. Everyone seems to be a few dollars short on the lunch bill. Go to a dinner with ten people? Better not be the last around the check or your going to get stuck for a grip. Everyone is forgetting to tip their waiter these days. Who knows what it is? Gas prices? Credit Card Juice payments? Overleveraged on exotic mortgages? (as a rule of thumb go with exotic girls, not exotic mortgages)
The G Manifesto is going to deal with some of these issues. A true G doesn't really have a lot of these problems. Gas Prices? I make CASH off rising gas prices by buying "calls" in the Commodity Markets (in fact, if the cost is going down I by "puts". I don't really care which way the market moves as long as I am on the right side of the trade.) Credit Cards? Don't use them. I use CASH. Mortgages? I can't stand real estate people. I pay CASH for cribs and get them out of my life as quickly as possible. So "..Where do you get the money?…" Again, Great question. Here is one answer:
I was having a conversation recently with one of my childhood friends (who shall remain nameless) over dinner at The Restaurant, Alex in Wynn Hotel in Las Vegas. (By the way Alex is really first rate. Alex Stratta really knows what he is doing, if you need to make sure you get a good table, you can drop my name, I am easy like that, but that is neither here nor there.) My friend, who is a first rate G, put simply, is a Smuggler. He is a true legend in two games like Pee Wee Kirkland. He has really none of the cash flow problems that most Americans have. He has a closet full of custom Italian suits, dates models, travels tons, lives the life of an International Playboy, and most important, he is liquid. (I would be lying if I didn't say that my tie collection is far better than his, but in his defense he doesn't roll ties too often and usually opts to go "blown open"). Being a Smuggler is a tricky job where like Big Daddy Kane said "Ain't no half stepping". You really need to go "all in" like Johnny Chan at the World Series of Poker. The upside is you can take all the vacation time you want and you don't have to fill out any forms during a job interview. There is also excitement, challenge, adventure, and tons of Scratch. For the type G personality, this job is like Nirvana (and I am not talking about that early 90's band where the guy shot him self and left his head all red like that little orphan Annie either). I figured I would share some of the highlights of our conversation on the Keys to being a Smuggler and the similarities with being a G. (keep in mind I have never been involved in this line of work, but I have worked for a Import/ Export company that was based out of Miami, so draw your own conclusions.)
Click Here for Drug Smugglers on Drug Smuggling: Lessons from the Inside
It really doesn't matter what you Smuggle; Columbian Beaks or Dutch Beans, Croatian Cigarettes or Cuban Cigars, Russian Heaters or Panamanian Platinum, Sierra Leone Diamonds or Sri Lankan Sapphires, its all about not paying tariffs (avoid human smuggling and sex trade smuggling, leave that to the Snake Heads). The basics are the same.
1. Data gathering, planning and Execution. These are really the cornerstones for the Smuggler G. You have to know what you're doing and really visualize the mission going down the right way. Glass half-full type stuff. Very similar to Components of a Magical Night.
2. Always work in a small team. This again is very similar to a night out for the G. Never allow anyone in your crew that you haven't known for a minimum of 5 years. Don't bring anyone "along for the ride" either. Every person must have a function. Pilots, Mechanics and Boat Captains are worth there weight in gold (and I don't mean Solid Gold that Gentleman's Club in North Miami Beach). Same thing when you go out at night. You don't want to bring some skippy along for a major heist who isn't gonna pull his weight with CASH, connections, juice, on the fly ideas… etc.
3. Have a reliable Source Man. This is one of the most important aspects. I can't even comprehend how many times I have heard my friend say "no product, no money". The Source Man needs to get the loads prepared, make sure the landing strips are legit and make the payoffs. It's not unlike knowing the Doorman and VIP host at a nightclub. You need someone to really take care of you. You don't want the VIP host to give away your table just because some jackass Actor guy rolled into the spot, for instance.
4. Have good tools of the trade. Transportation (boats, planes), radar detection, and weapons (many old school smugglers swear against weapons….my friend always brings a Desert Eagle for rival crews…who am I to argue with him?). Also, my friend dresses sharp when he smuggles. He has a penchant for Valentino and Roberto Cavalli suits and Gucci Loafers. It's important to look smooth when you're smuggling if you want to be the best.
Click Here for Drug Smugglers on Drug Smuggling: Lessons from the Inside
5. Always use aliases. When you're a Smuggler, you have to do everything with fake identification (remember all this is illegal, although it has been around since government imposed taxes). Its also standard practice for a G to use Aliases when he is in any city for any extended period of time. With the amount of girls that I know and date, it's imperative that I use fake names. Dating four girls at the same that work at the same nightclub is nearly impossible without the use of Aliases. Hell, I've dated two sisters at the same time by using aliases…true story. The key is you have to be careful when one sister says "You have to meet my sister, you and her will get along so well……" I was really surprised a few years later, when I saw both of them at the same time in a Nightclub. But, I was smooth enough to convince them that I had an identical twin brother…..
6. Getting the product In-country. The main thing to figure out is if you are going to do it by boat or by plane. My friend prefers plane. This is similar to when you are going to a dope nightclub. You need to figure out if you are going to pay your way in, talk your way in, or use the back or side door. In smuggling however, you can vanish (and I don't mean Vanishing Pinstripes on my new Etro suit….thanks Kean) if you don't pay off the right people.
7. Making the transaction. The best way is to already have a buyer for your product. You don't want to be sitting on product and negotiating and crap. This will only expose you to potential problems and gets you in closer contact with people you want no part of. This differs from when you roll out at night. It's more fun to "wheel and deal" with girls at the spot than to have something already set up. If it's already set up, what's the point of going out in the first place? Better off settling into a Super Tuscan or California Cult Cabernet and some Goat Cheese Raviolis, and Carpaccios or some Squid Ink Linguine. Or a lamb filet and côtelette, ratatouille, goat cheese liquid, pommes Briana and thyme essence with a Snow Bunny.
Obviously, you have to deal with many more aspects to be a Top Ranked Smuggler, like Rinsing Money (we will handle in a later installment of The G Manifesto), dealing with snitches, people flipping, hideouts, and cool out periods. This should be enough to get you started for now, those credit card juice payments can be a real pain. The Rest is Up to You……………
Emails of the week from Fantastic Finishes- Five Top Closes:
"I couldn't close a screen door before reading this and after studying each line after receipt I popped my turtle into 2 skanks this weekend fresh out of Stingaree rolling on beans.
You have a fucking aura about you Kizer, I am bitch slangin' male gigolo now. I picked up a nickel plated Eagle a few weeks ago and keep that in the inner pocket of my Baby Blue Armani custom fitted. I am jet broke right now, but looking to pull off a heist soon. I hope we don't butt heads at the same bank, going against a legend is a scary thought."
and
"For those that are not skilled in the science of the "close" this was a real eye opening article. For so many years I tried to be the nice guy and if it happened it happened. I saw these beautiful women hanging out with skinny white kids with wrinkly shirts from Tahoe pulling bar snacks out of their pocket and I just didn't get it. I took your words to the streets, to the hilltops and to the nightclubs and to my amazement they worked. Another great life changing article Mr. Mason. I don't think the average person understands the gems that are found in your wisdom. This is like studying Martial Arts from Master Azato or Master Itosu. It's one of life's opportunities that only come around every thousand years. I'm sure that some just push the G Manifesto aside as the misogynistic ramblings of a mad man but there is real genius to it if one has the patience to read between the lines. Master Mason I am forever indebted."
Michael Porfirio Mason
AKA The Peoples Champ
AKA Moon Curser
The Guide to Getting More out of Life
http://www.thegmanifesto.com
(Want to see something in The G Manifesto? Send suggestions to thegmanifesto@yahoo.com)
Mr. Me Too by Clipse featuring Pharrell Williams

Mr. Me Too – Clipse featuring Pharrell Williams