Summertime Update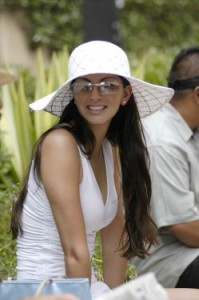 Summertime Update
Click Here for The G Manifesto's Free Gentleman's Club Report
Click Here 007 Lifestyle – Living Like James Bond!
This Summer I have been logging in heavy hours at The Del Mar Race Track, hustling, gambling and swooping fly girls. I have even taken to eating lemondrops at the track (and I don't mean those shots that Strip Club Waitress' always try to get me to do pro-bono, either), all the while enjoying the beautiful 70 degree weather that coastal Southern California has been offering, while the rest of the country sweats it out.
I have been mostly holding court dayside (pre-track) at Red Tracton's and nightside (post-track) at L'Auberge Del Mar. I did take time to catch Juan Manuel Marquez cook Juan Diaz in the rematch, like I said he would. Another big win for 70's babies over 80's babies. And another decent win for my Custom Suit pocket.
I also saw Zenyatta go 18-0 in what Del Mar Thoroughbred Club CEO, Joe Harper, called, "This is the best day Del Mar has ever had. And thanks to not just Zenyatta, but the style and eloquence of people you see in front of you," from the relaxing confines of The Del Mar Turf Club.
Now after having The Best Feeling again, its time to plan my next strike. Hope your summer is going well also.
And don't forget to bust my favorite Summertime Move: Lollipops and Popsicles. Just did a re-order of Firecracker pops.
Click Here for The G Manifesto's Free Gentleman's Club Report
Click Here 007 Lifestyle – Living Like James Bond!
The Rest is Up to You…
Michael Porfirio Mason
AKA The Peoples Champ
AKA GFK, Jr.
AKA The Sly, Slick and the Wicked
AKA The Voodoo Child
The Guide to Getting More out of Life
http://www.thegmanifesto.com
Malo – Suavecito