The Del Mar Racetrack Part II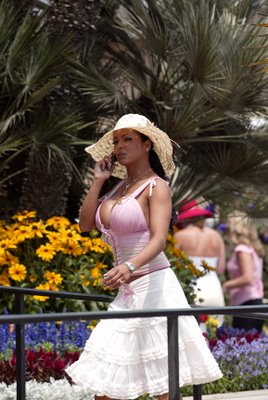 The Del Mar Racetrack Part II
Click Here for The G Manifesto's Free Gentleman's Club Report
Click Here 007 Lifestyle – Living Like James Bond!
So, Back in Southern California from Buenos Aires. Where am I now? Near the Pacific, to be specific.
Click Here for Del Mar Racetrack
July only means one thing if you are in the US: The Del Mar Racetrack (or Saratoga Race Track, so I guess it means two things).
In case you don't know your West Coast G History, The Del Mar Racetrack (AKA "Where The Turf Meets The Surf.") has been taking place since 1937 in the sunny, seaside, ocean breezy village of Del Mar, California.
It was created by Bing Crosby, actor Pat O'brien, funnyman Jimmy Durante and Charles S. Howard (owner of Seabiscut). The attendees of the track read like a who's who for G's past and present. From Frank Sinatra on down.
So, as an up and coming International Playboy on the Rise, making it to the Track is paramount (Being in Monte Carlo, is of course an acceptable excuse.) And when I say paramount, I mean, you are a fool not to go.
Personally, I have been going to the track for years, as I developed a taste for exotic women and high living at an early age. And I will say it is more than certified.
I have already given some keys to victory in the past on Surf and Turf: The Race Track. (If you haven't read it by now, this is a great time to check it. If you have read it before; re-read, and commit to memory. Use flashcards, make cheat sheets, do what you need to do.) Here are some updated tips:
"And…away they go!"
Workout
Always get a workout and Enter The Dragon before you go to the track. You need to be feeling your best. This is especially important on "Four O'clock Fridays" were the stakes are extremely high (and not just the betting). Regular working guy usually doesn't have the time to get a workout in before the track, since he is slaving away at work. The International Playboy has the luxury where he doesn't need to be in "the cube" (reason #4080 to be an International Playboy).
Shower beforehand
The Del Mar Racetrack (and Saratoga) run in summer and its mad hot out. It's easy to get sweaty and sticky in you custom pinstriped Paul Smith suit. Again, your competition usually doesn't have the loose schedule where they can get all crispy and clean like Yakatori and Candy Paint before the first post.
My Take on Opening Day
For the clowns. Just the thought of the spazzyness makes me sweat and blood starts coming out my nose.
Sure there are a lot of girls, but when you go to the Racetrack you need to be an "Ivan Boesky". That is, look for situations of arbitrage. There is no arbitrage on Opening Day.
Click Here for Del Mar Racetrack
Dress Sharp like an ice pick
This is as important as ever. We talked about this in Surf and Turf: The Racetrack. The classic gear is still as important as ever. But I like going mad flash to the track. Last time I wore a light two button, side vents ETRO with chronic green interior and coco brown Gucci loafers, no socks. Slashed Carotid Artery bleeding, blood red Brioni pocket square. Girls were in a frenzy, like Hollywood fools when the Cane dealer arrives at the Mansion Party at 3am.
Bankroll
Bring a huge Bankroll to the track. And when I say huge, I mean obnoxious. The Track, like most dope places, is not plastic territory. Well, it is plastic surgery territory, but that is neither E-Tab Rave Honeys nor Coke Fiend Playboy Bunnies.
This is especially true since we are in a Down Economy. People aren't too liquid right now. Flashing CASH works wonders (and I don't mean early 90's Ecstasy Wonder Gangs either…) on Southern California girls in today's socio-economic atmosphere.
I remember once, a long time ago, when I was a younger proto-type G and I was hanging out with this Older G who we will call "Vincent". The guy had juice. Fresh squeezed. Crib in Marbella. Sharp dresser. FARC as a client. Eastern Bloc Connects. Mad Passport Stamps. The kind of cat that owns $175,000 Samurai Swords. You know the type.
Anyways, I offered to buy Vincent a drink, to show respect to the older generation of G's before us. I pulled out a decent sized Bankroll (but not too big) out of my pocket of my custom Isaia two-button Suit. Vincent shot me a look like, "What's up with your bankroll?"
I then reached in my other pocket and pulled out a second, even bigger Bankroll. Vincent bursted out laughing and almost spit out his scotch across the bar. This was followed up with backslaps and introductions to all the Track heavies – owners, trainers, gangsters, etc.
Vincent ended up throwing me a couple Jewelry heists too. Real lay ups. Worked out well.
So, bring a big Bankroll.
Always travel to the track in style
Roll up, AC blazing in a town car, limo or Cadillac. No exceptions. Use Turf Club Membership parking. Grease the valets for a good spot up close for quick getaways. And so they don't heist you.
Turf Club
Get a Turf Club membership. Or meet someone who has one. If you have connects, this shouldn't be a problem. The Turf Club gives you a better view of the track, shorter betting lines, hotter, more high-class girls, a great smoking patio and drinks served in glass instead of plastic. In short, the blimp reads: "The World is Yours".
Put rounds in the Bank
When you first get to the track everyone is pretty sober. Girls can usually control themselves pretty well. They have more willpower at this point and they try and keep it cool (as opposed to later on in the day when you get propositioned by young and old Girl non-stop). But make eye contact and spark up as many meaningless conversations with girls as possible. (This shouldn't be too difficult. At least the meaningless convo part…it is Southern California after all.) These connects will pay dividends later on as the track wears on. When the booze catches up with the girls they will try to swoop on you. You can count on it. Like you can count on getting wet if it's raining outside.
Competition levels
Generally speaking, West Coast soft. Most guys are square like Tieneman. Coming weak, like FEMA on Katrina.
Although, you do get the International Playboy set. But, I know most of them by now and we work it like Makos. Still, bring more Game than the Serengeti and stay tooled up, for rival firms that might get jumpy. And I am not talking a throwback Michael Jordan jersey when I say I am wearing the four-five, either.
Old Cats

Always rap out with the older cats at the Track. Some of these guys are sharp dressers and were Playboys and G's of their era. It's always good to chop it up with these guys and cross reference data sheets. These Old Cats usually have tons of dough and can hook you up on some biz moves. I actually referred one of these guys to one of my friends in the disposal biz, and I got a healthy finder's fee, so it was good all the way around.
Who doesn't like healthy finder's fees?
Old Kittens
Most people miss this angle, even top flight G's. Always spend some time talking to the older kittens. Young kittens will see you talking with them and think you have tons of class. The old kittens also have some funny stories, and when you charm them they introduce you to their family and other young kittens.
Cigarettes
Bring two packs. Southern California is the land of people that don't go out with smokes. It's almost retarded. (People aren't in that good shape here.) Young, fly, rich daughters will swarm you like Wu-Tang Killer Bees once they get a few cocktails and white in them. White Wine I mean…
And there you have it. I will be at the track almost every day. I will be the brutally handsome guy in the Turf club, dressed impeccably, smoking grits, swooping girls in summer dresses, chilling by the "large transaction" window in case you wanted to come by and give me a pound.
See you there. And don't wish me "good luck".
I don't need it.
(More advanced techniques next year. I am sure by the time this year's Del Mar Track Season ends, I will start another trend.)
Don't be weesh. Sign up The G Manifesto Newsletter!
The G Manifesto's Del Mar Racetrack Resources:
Click Here for Surf and Turf: The Race Track
Click Here for The Del Mar Racetrack Part II
Click Here for The Dress Policy of The Del Mar Turf Club
Click Here for The Del Mar Race Track 4 O' Clock Fridays
Click Here for How to Win at The Kentucky Derby
Click Here for Opening Day The Del Mar Racetrack Style Then and Now
Click Here for The Del Mar Race Track: How to Dress for the Horse Races
Click Here for The Del Mar Racetrack Checklist
Click Here for The Del Mar Race Track: Dope Style, Wack Style
Click Here for Opening Day Del Mar Race Track Pictures
Click Here for Del Mar Race Track Considers Shortening Season
Click Here for Del Mar Racetrack Art Mural
Click Here for 2009 Del Mar Racetrack Guide
Click Here for The Del Mar Racetrack: 3 O' CLOCK FRIDAYS this Year
Click Here for Joe Harper's Blog: President and CEO Del Mar Racetrack
Click Here for The G Manifesto's Free Gentleman's Club Report
Click Here 007 Lifestyle – Living Like James Bond!
The Rest is Up to You…
Michael Porfirio Mason
AKA The Peoples Champ
AKA The G you should have Killed last year
The Guide to Getting More out of Life
http://www.thegmanifesto.com
Resources:
http://www.saratogaracetrack.com
Az – City Of Gods

Wale – Eye of the Tiger

Wu Tang Clan – Can It Be All So Simple