Del Mar Racetrack Art Mural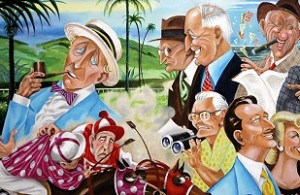 Del Mar Racetrack Art Mural
(Here is my Facebook, New Twitter and The G Manifesto Facebook Page)
Click Here 007 Lifestyle – Living Like James Bond!
Crush It!: Why NOW Is the Time to Cash In on Your Passion
Click Here for Mack Tactics: World Famous Dating Program For Men!
An iconic mural featuring caricatures of more than 100 people – and several fleet-footed horses – who have shaped racing history is now on display at the Del Mar Racetrack.
The renowned racing artist Pierre "Peb" Bellocq installed the mural this week after spending nearly two years on the project.
The 30-foot-long, 6-foot-tall piece depicts legendary crooner Bing Crosby, who founded the racetrack in 1937 at the fairgrounds along with Jimmy Durante and Pat O'Brien, who are also pictured.
About half the people in the mural are living, and some will attend a dedication ceremony July 25.
The Del Mar Thoroughbred Club, a private company that has a state contract to operate the annual horse races, commissioned the project to celebrate 70 years of racing. The racetrack was founded in 1937 but it closed for three years during World War II. The 70th season begins July 22.
Click Here for Fundamentals Of Offshore Banking: How To Open Accounts Almost Anywhere
"We went back and looked at all our history and photographs and looked through our media guides to see who made a mark at Del Mar over the years," said Joe Harper, president and general manager of the Del Mar Thoroughbred Club since 1978.
"We have photographs of all these people scattered around, and now you can see them together," he said.
The acrylic mural, in the Clubhouse/Turf Club entryway, features many of the glamorous Hollywood stars who frequented the track in its early days, such as Ava Gardner, Betty Grable and Barbara Stanwyck. Others are the actor Robert Taylor and comedian W.C. Fields, both racing fans.
Among the living people depicted are horse trainer Bob Baffert and horse owner Jenny Craig, known for her weight-loss centers, who is pictured next to her late husband, Sid.
Harper himself is depicted wearing sunglasses in the center of the mural above his mother, horse owner Cecilia deMille Harper.
There are also notable horses, including Seabiscuit, who won a match race with Ligaroti in 1938. Dare and Go, who in 1996 beat Cigar – then considered the best horse in the country – is pictured smoking a cigar with a satisfied look on his face.
Click Here for Fundamentals Of Offshore Banking: How To Open Accounts Almost Anywhere
Surprised they didn't extend and invite for me to be in this Mural (I would have respectfully declined).
After all, no one embodies the old-school RaceTrack better than your humble author.
And I have been the top Playboy there for the last ten years running.
Countdown to First Post: 10 days 17:44:10
Peep these Del Mar Race Track resources:
Click Here for The Del Mar Racetrack: 3 O' CLOCK FRIDAYS this Year
Click Here for Surf and Turf: The Race Track
Click Here for The Del Mar Racetrack Part II
Click Here for The Del Mar Race Track: How to Dress for the Horse Races
Click Here for The Del Mar Race Track: Dope Style, Wack Style
Click Here for Opening Day Del Mar Race Track Pictures
Click Here for Del Mar Race Track Considers Shortening Season
The Rest is Up to You…
Michael Porfirio Mason
AKA The Peoples Champ
AKA GFK, Jr.
AKA The Sly, Slick and the Wicked
AKA The Voodoo Child
The Guide to Getting More out of Life
http://www.thegmanifesto.com
Bob Marley Pimpers Paradise