Michael Mason on Rollerblading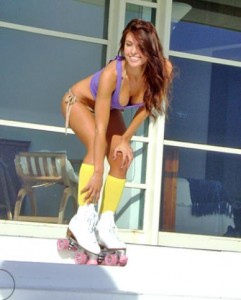 Michael Mason on Rollerblading
Click Here for The G Manifesto's Gentleman's Club Report
Click Here 007 Lifestyle – Living Like James Bond!
One of my friends recently sent me this and it reminded me of a little story from back in the day:
(Side note: I haven't really been up on the Most Interesting Man in the World thing, I don't watch a lot of TV. However, the cat looks exactly like one of my friend's Fathers who is a heavy Old-School G in his own right.)
Back when I was a young proto-type G, my running partner and I were walking down the Mission Beach Boardwalk at the beginning of summer, probably high on Chronic.
We were just rolling (and I don't mean rollerblading or Beans, either, we were just walking), spitting Game at beach girls, slapping five with Bill Walton and Eek-A-Mouse riding by on bikes (as they often did in those days), and smoking grits. I think we were going to pick up a new stick at Liquid Foundation or something.
Just another day in the life.
All of a sudden, thru the crowd, a weesh rollerblader, out of control, came barreling into my running partner. My running partner, who always had quick reactions, and put up his elbows to "block" the rollerblader just as they collided.
The rollerblader got the worst of the collision by far. He took my droogs elbow on the chin and was KO'd flat on his back.
Then the funniest thing happened:
Everyone on the boardwalk started cheering.
What did I do?
I just lit up another smoke and kept walking.
Click Here for The G Manifesto's Gentleman's Club Report
Click Here 007 Lifestyle – Living Like James Bond!
The Rest is Up to You…
Michael Porfirio Mason
AKA The Peoples Champ
AKA GFK, Jr.
AKA The Sly, Slick and the Wicked
AKA The Voodoo Child
The Guide to Getting More out of Life
http://www.thegmanifesto.com
Eek-A-Mouse – Sensee Party