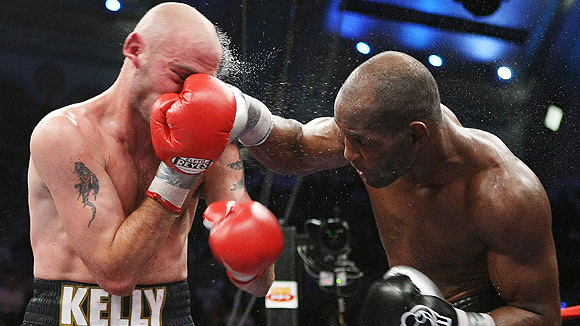 2012 Presidential Debate Scorecard: Obama VS Romney
Just finished watching the last debate, last night. Let's break them down:
Debate #1: Romney moves and throws the occasional hard shot. Obama just covers up and responds with the occasional weak pawing jab.
It kind of reminds me of Pacquiao vs. Clottey, where Clottey just didn't show up. (Comparing Romney to Pac is a more than generous comparison for Romney, but you get the point).
Romney by Unanimous Decision.
Debate #2: Biden VS Ryan
Biden bullies and bloodies his younger opponent. Reminds me of Bernard Hopkins punishing the younger Kelly Pavlik. Biden has way too much ring generalship for his weaker opponent.
Side Note: The Democratic Party should do some deeper digging into Ryan's past. Guaranteed their is probably a ton of gay p0rn there. Even more certainly, there is gay p0rn in Ryan's future.
Biden wins almost every round to a clear cut Unanimous Decision.
Debate #3: Obama comes out head hunting looking to avenge the last loss. He does. Romney throws back, but is outclassed.
Similar to Ali VS Frazier II.
Obama by Unanimous Decision.
Debate #4:
Obama comes out hard, smacks Romney around throughly, and gets a late round stoppage. If Romney was on the streets, he would be real nervous with the heater.
Reminds me of Roberto Duran vs Esteban DeJesus III.
Obama by TKO in the 12th. (You can start watching at 7:56).
And there you have it.
Obama wins 2-1.
Democrats win 3-1.
Click Here for Roosh's Day Bang: How To Casually Pick Up Girls During The Day
Click Here for The G Manifesto's Free Gentleman's Club Report
Side Note:
I know it is beyond ridiculous to compare Romney and Ryan to any of these boxers. Romney and Ryan couldn't mop up the gyms that these guys work out in.
The Rest is Up to You…
Michael Porfirio Mason
AKA The Peoples Champ
AKA GFK, Jr.
AKA The Sly, Slick and the Wicked
AKA The Voodoo Child
The Guide to Getting More out of Life
http://www.thegmanifesto.com